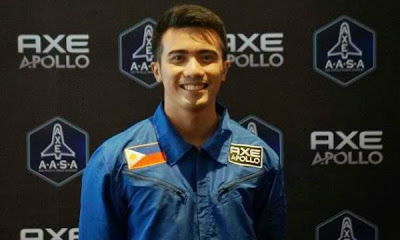 Chino Roque
Another Filipino is making milestones! La Salle graduate Chino Roque is the first Filipino who will fly into space in 2014 as one of the winners in the Axe Apollo Space Academy Competition. Roque, 22, is a graduate of psychology in the said school.
There were two other Filipinos in the competition, Evan Ray Datuin and Ramil Santos, but Roque outdid their efforts.
However, winning was not that easy. All contestants underwent rigorous training and tests like zero gravity, air combat, and G-force at the AXE Apollo Space Camp n Orlando, Florida. The three Filipinos together with 107 other individuals from 60 different countries were divided into different teams for the challenges. Roque was included in the Discovery team.
In his interview with Rappler, Roque said that his favorite part of the challenge was co-piloting the fighter jet since he's always wanted to become a pilot. Through that, he got to experience the heady feeling of being in zero gravity. He described it as having four people sitting on your chest. Though very challenging he found it fun as well.
Oddly enough what he found the most difficult throughout the challenge was the multiple choice aptitude test because of the various topics it covered.
Roque will be one of the 22 astronauts to fly into space for 30 minutes on board the X-COR Aerospace Lynx Aircraft in 2014. The said aircraft will start flying customers in space in 2015 as long as they have $95,000 to pay for one ticket.