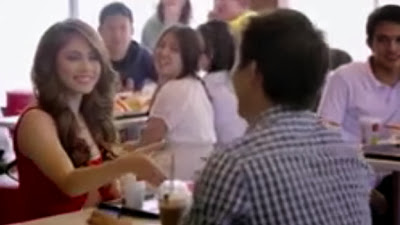 A video that has gone viral since McDonad uploaded it on their YouTube account shows Kapamily actress Jessy Mendiola spicing up an otherwise ordinary day for several guys! Perhaps not only for the guys but for all the customers that was dining at that McDonald's joint during that time. 

The video that lasts for 2:18 minutes shows the surprised expression on customers' faces, especially the young man in checkered polo shirt, as a the red carpet is rolled out and a marching band came out. He looks even more astonished when the "Maria Mercedes" star wearing an attractive red minidress comes out and shares the table with him.
However, he was not able to monopolize Jessy as the actress also approached the other guys dining there. The video also shows her dancing with and taking pictures with the other customers. At some point she even playfully wipes the sweat off one of the guys face.
It looked like Jessy had lots of fun getting the customers starstruck, as they obviously were. But anyway, for sure seeing Jessy in the flesh made their day.
Don't you just wish you were there?
Watch the video below.