Pinoy boxer Manny Pacquiao is not confrontational but he does have an answer to the series of posts that Floyd Mayweather Jr. made on his social media accounts over the Christmas Holidays.
Pacquiao's response was, "I think Floyd really loves me contrary to what many believe."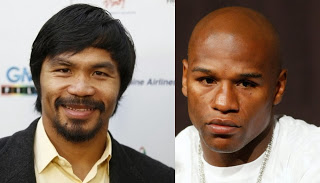 Instead of feeling insulted by the photos and memes that Mayweather posted, Pacquiao said that he feels flattered because Mayweather really took the time and effort to make those things. In his statement to Philboxing's Eddie Alinea, Pacquiao said he'd like to thank Mayweather for always remembering him and "every time he talks, he talks about me."
Pacquiao said it was ok if Mayweather makes fun of him and that the other boxer is not saying anything bad about him.
And if Mayweather is hoping to raise the Pinoy boxer's ire he'll be disappointed and maybe a little bit ashamed of himself, because Pacquioa simply said he will just pray that God spares him of any serious injury that might end his career. Pacquiao also acknowledged that Mayweather is "pound-for-pound's best in the world today" and that anything bad happens to him will surely make the world of sports sad.
Pacquiao is also grateful for the fans that stood up for him by creating their own memes against Mayweather.