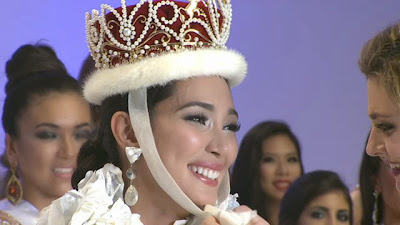 It's another win for the Philippines as Miss Philippines Bea Rose Santiago is crowned Miss International 2013!
Santiago beat over 60 equally-beautiful candidates all over the world at the pageant held on December 17, 2013 at the Shinagawa Prince Hotel Hall in Tokyo.
Santiago, who is a communications student at York University in Toronto, won the judges over with her excellent answer during the final round wherein the final five contestants were to give a 30-second speech on the topic "What I will do if I am crowned Miss International."
Santiago's short speech was, "The whole world saw how my country suffered. One by one, other countries helped. I would like to thank who helped my country in our darkest hours. You have opened my heart and eyes on what we can do to help each other.
"If I become Miss International, I will uphold international camaraderie. I will work to sustain the spirit of sympathy and spirit of hope. As long as we work together there is hope."
First runner up is Miss Netherlands Nathalie den Dekker and second runner up is Miss New Zealand Casey Radley. Miss Colombia Cindy Aguilar and Miss Hungary Brigitta Otvos complete the Top 5.
Special awards were given as well. Miss National Costume is Miss Aruba Erialda Croes, Miss Friendship is Miss New Zealand Casey Radley, Miss Internet is Miss Macau Adela Ka-Wai Sou and Miss Photogenic is Miss Lithuania Elma Segzdaviciute.