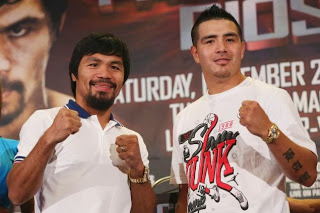 I did nothing wrong and I did not cheat. This about sums up Mexican-American boxer Brandon Rios' stand in the issue going around that he did something wrong during his fight with world-famous Filipino boxer Manny Pacquiao last November.
In the drug test conducted by the Voluntary Anti-doping Association (VADA) right after the fight between the two boxers on November 24, Rios' urine was found to contain methylexanamine, a prohibited dietary supplement used to reduce weight. Both fighters were tested five times. Rios passed on the other four except for that last test right after the fight while Pacquiao passed all of them.
Rios denied that he took any illegal while reducing weight for the 147-pound fight. Everything he took before the fight was checked and he was able to reach the 147-pound requirement with the help of his strength and conditioning coach Alex Ariza. Rios said that he can't explain what went wrong until he speaks to his group.
Ariza was previously in Pacquiao's camp as his strength and conditioning coach but they had a falling out.
Boxing promoter Bob Arum said that he doesn't blame Rios for what happened because he simply follows what his conditioning coach tells him to eat and drink. He clearly said it's Ariza's fault.
Arum also revealed that Rios has been suspended by the Macau athletic commission. Even though the substance found in his system is not steroid it is still something that should not be in his system during that time. Rios is allowed to make an appeal against the suspension.