In times of crisis some people will either show their best or their worst. For the three gays Peter Jupiter Galvez, Ram Mahusay and Momar Javier it's the former. Although they've accepted that they were going to die while being held hostage by the Moro National Liberation Front (MNLF) in Zamboanga City last September, they were not deterred in showing their cheerfulness and doing what they can to help their fellow hostages. 
Even though it seemed like a hopeless situation at that time, 20-year-old Javier knew they had to do something. And so, for three weeks, with Galvez and Mahusay, he supplied food, water and laughter to the other hostages.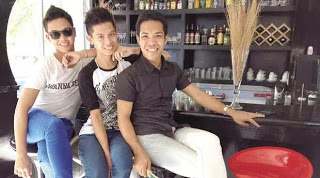 After the standoff, the freed hostages gave some account of the heroism of the three gays. According to Father Michael Ufana, parish priest of Saint Joseph Church, the three gays took care of his 70-year-old grandfather. They gave their bed to his father and sister and chose to sleep on the cold floor instead.
Javier carried the priest on his back when they had to transfer to another location since he could not walk anymore.
Galvez, on the other hand, was responsible for providing water to the hostages and the MNLF. His task was an arduous one because they were being fired at while carrying the numerous water containers. He said that during those instances, he had accepted his death.
Mahusay was responsible for cooking the all the food for the hostages and their captors. Luckily he is a hotel and restaurant management student that is why he has the skills. And because he has a background in first aid, having undergone training with the Philippine Red Cross, Mahusay also helped treat injured hostages.
Cherry Belarmino and her mother Virginia, also attested to the three gays' courage. They liked the fact that they have a happy disposition and were not afraid of bullets. They gave an account of how the three were even asked to dig graves for the hostages who died.
September 13 was the worst day for all the hostages when soldiers initiated an concentrated offensive against the MNLF in KGK Building in Barangay Santa Clara. All hostages were told not to get out because they would be fired at and so to save themselves Galvez hid inside a small refrigerator while Javier and Mahusay hunkered down under a sink.
After the hostage crisis, the three students went back to their boarding house in Santa Barbara and even managed to get back some of their personal things.
And since it's Christmas, these three gay students shared what they want for Christmas. Mahusay just wants to be with his family and also to meet Kevin Balot, the transgender beauty queen. Javier, who is a dean's lister and a treasurer of ZSCMST Supeme Student Council, simply wants a makeup kit. Galvez, already received his Christmas gift, which is a closer relationship with his father. But as a plus he also wants to meet Vice Ganda.
Not everyone can do what these three did that is why their College president Dr. Milavel Nazario is proud of them and she has this to say about them, "At the height of such tremendous ordeal, they managed to stand out among the others and bounce back. Gays are really gay and strong people."