Four are dead and five others are wounded in the shooting at the Terminal 3 of the Ninoy Aquino International Airport on Friday.
Fatalities were identified as Zamboanga's Labangan Town Mayor Ukol Talumpa and his wife Leah Sarifudin Talumpa and Phil Thomas Lirasan who was just 18 months old. Those who were injured are family members of the deceased mayor. They are being treated at the East Avenue Medical Center in Quezon City.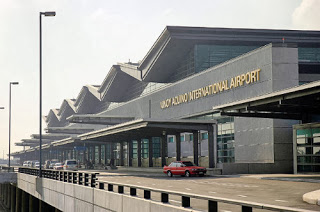 The mayor and his party landed at 11:15 a.m. at NAIA 3 from Zamboanga via a Cebu Pacific flight. After touching down they immediately went to their waiting vehicle near the Arrival Bay. It was then that the two gunmen wearing police jackets rained bullets on them. 
The airport police chased after the gunmen but they were caught in a traffic jam.
Investigation is now ongoing. The Philippine National Police- Aviation Security Group (PNP-ASG) said there are three witnesses to the incident. These witnesses have now been turned over to the Pasay City Police Station's Criminal Investigation Division for their statements.
PNP-ASG director Chief Supt. Christopher Laxa said the Southern Police District is now leading the investigation of the killing.
Two attempts had been made on Mayor Talumpa's life but he managed to survive them. This third time, whoever is behind it, made sure the mayor will be dead.
Source