Veteran anchor and broadcast journalist Korina Sanchez find herself again on the spotlight after making another controversial comment in relation to typhoon Ruby that are going to hit the country.
On December 3 episode of TV patrol, in the credit discussion of three anchor (Noli De Castro, Ted Failon, Korina Sanchez) veteran anchor said she hoped Typhoon Ruby would hit Japan instead of the Philippines.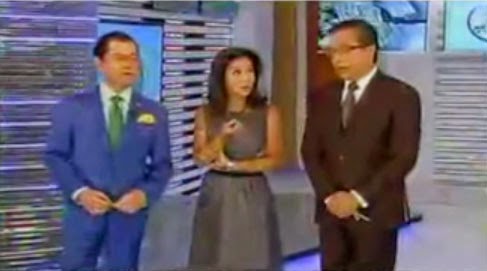 In the video clip posted by Danny Luke in Youtube (attached below), you can see that Korina is conversing with her co-anchors about the coming typhoon. Noli and Ted gave their views regarding the typhoon when Sanchez reacts saying "Kaya pa natin idasal yan para lumihis."
Noli then remarks "Sana ay hati na lang tayo, Kalahati sa Pilipinas, kalahati sa Japan" when Korina responded "Puwede bang sa kanila na lang lahat?"
De Castro then responded "Wag naman" but Sanchez  pressed on, saying, "Sa kanila na lang lahat. Parang mas kaya nila."
Korina Sanchez comment enraged many Filipino netizens and quickly become the hot topic on social media.
Here are some comment of angered netizens.
From Facebook user Val Pinlac, Very irresponsible, unreflective, insensitive…Korina seems to be very consistent on these! But she lasted this long in the industry??? Is this not indicative of the kind or quality of the Philippine journalism? Does ABSCBN have any standard? Very unprofessional and unethical!
Another Facebook user Raul J. de Vera Jr. said No one has the right to wish ill of another … no matter how better or worse the situation it. Such an attitude can only attribute to the most ill-educated persons humanity can contribute to any given society. Sad they had a strong influence on the many. Even as a jest, such stupid words should not have been uttered out in the open. How sad.
Which also supported by another FB user Chanz Caballero Pagayon saying "Since High school… I idolized Korina Sanchez for her very consistent in industry of news casting but now…I'm very disappointed of what she did said, unprofessional…."
Meanwhile on YouTube post by Danny Luke some user defended Sanchez saying "Grabe naman kayo guys mkapang husga, tao lang din naman si Korina. Maybe concern lang sya sa Pilipinas nang nasabi nya yan, in a wrong way nga lang. Pagpasensyahan na natin, hindi naman magugunaw ang earth. Imbes manghusga at mabwisit kayo, ipagpray nlng natin na safe ang bansa. Gosh, guys ang dami kaylangan tulungan, pray na nga lang makakaya natin, ibubuhos paba natin sa hatred sa issue na to? Pasko guys. God bless us all :)"
Watch the clip of the conversation of three anchors in the video below.