For sure, you already have a bet on the coming Presidential elections. You may have this bet because you think the person can best solve the problems of the country. Actually, being a Filipino is very difficult. The country is facing too much problems and poverty is prevalent. Imagine, we already have billions of debts from the International Monetary Fund. Inasmuch as we want those who have stolen from our country to repay back what they have taken from us, the Philippine laws are still weak to take away stolen money from offenders. Instead, those criminals just elope and go out of the country unpunished even without returning back a penny of their allege corruption. Choosing the best Filipino President would really help a lot.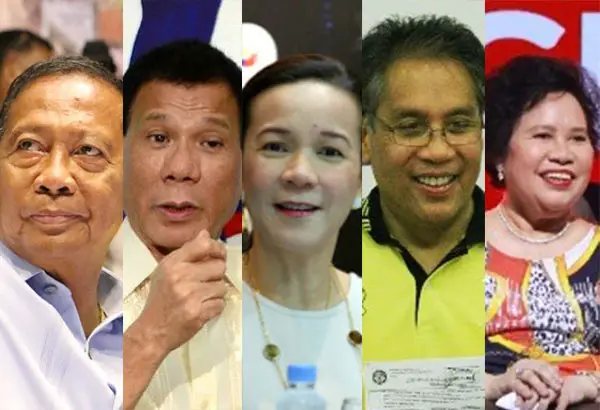 To avoid to be bias, I shall not endorse any of the Presidents but will give positive and negative sides of them for you to have a correct choice that you think would be right for you.
1. Sen. Miriam Defensor-Santiago
Positive: Senator Santiago is very intelligent and knowledgeable in both public governance and the laws of the Philippines. This means that her decision will be based in justice and equity and will not be pressured by other influences when she makes a decision for the country because of her strong personality. In fact, she was supposedly endorsed in the International Court of Justice which means that she is high-caliber lawyer even in the international arena. She is also a comedian giving her more fit to be okay when difficult situation comes.
Negative: Although there should not have been a bias on her health condition, somehow this can affect the country if she suddenly becomes very ill because of her cancer. There will be vacancy in the position again that would affect everyone.
2. Mayor Rodrigo Duterte 
Positive: He is very good in criminal justice and can put the country in order especially on the fight against drugs and high crimes such as big time robbery, smuggling and corruption. He can be relied upon in ensuring peace and order in the country. He is also very strong in his governance not influence by anybody and can stand for what should be done against those who violate the law.
Negative: There will be a tendency that those who are innocent may be at times be punished without due process of law. This will create chaos and war and uprising among the masses. There will be no forgiveness with each other that will happen.
3. Sen. Grace Poe 
Positive: Like her father, Fernando Poe, Grace has great concerns among the masses and is willing to give a helping hand to those in need. She has programs that can improve the plight of the poor and will be able to help them with their trouble. She is also intelligent enough to handle Presidential governance. Though she looks simple, but as she gives her speeches, everything makes sense. Her residency in America for many years will be an advantage for understanding how to lift the countries condition.
Negative: Her stay in the Philippines required to run as a President is short of some time. This means that if she sits in office and would be protested, she will likely not finish her term. Aside from this, her husband is not a citizen of the Philippines which would be a hard set-up for the country.
4. Sec. Mar Roxas 
Positive: Mar Roxas has contributed much for the welfare of the country especially on the economic side. He was the one who introduced the Business Process Outsourcing companies in the Philippines that provides the call center and IT jobs that brought employment to thousands of people. As a very intelligent economist, he can bring more success to the country and be able to add economic success to the country.

Negative: At times, he is weak in decision making like what happened in the Yolanda crisis. Not admitting at that time that there was lack of action from the government for the crisis is not good for the country. Being realistic is very important for a President.
5. VP Jejomar Binay 
Positive: Since his accomplishment in Makati is highly visible, he can bring good results for the whole country. Aside from the economic success there, he can bring many free hospitalization and educational benefits for everyone due to his experience. He can also uplift the plight of the poor who have no means of survival during emergency situations.
Negative: He is very good in politicking and would not answer directly questions raised against him and would not honor due process. This is a weakness that might cause ill for the whole nation if he will do some anomalies.
These insights will somehow give you some ideas on how to decide for a good President. Just choose wisely and cast a vote on the upcoming Presidential election.