Newly elected President Rodrigo Duterte, voices his thoughts and opinion on the monthly pension of retired workers of our country. It was on the 31st of May in a press conference at the Presidential guest house in Davao City where he stated that he wants to pursue the rejected appeal during the Administration of former President Aquino, of increasing the monthly Social Security System (SSS) pension by Php2, 000.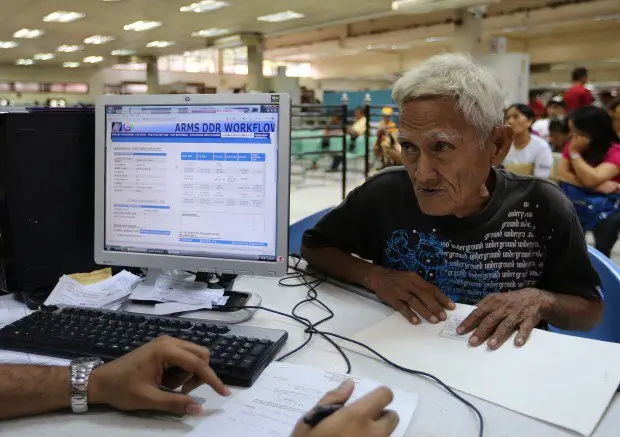 Photo Credit: Raffy Lerma, Inquirer.net
During the previous administration, Aquino vetoed the congress-approved bill that would grant SSS retired pensioners addition Php2, 000 in their monthly pension and that is what President Rodrigo Duterte wants to change. "I will increase it, alam niyo dapat binigay na iyan."
"While we have able bodies, we give our money for pension so that we can have something to receive in order to buy something; now with the prices of even medicines going up, the Php2, 000 increase is not even enough," said Duterte. Our president truly understands the situation of the market and the economy right now that he wants to help his fellowmen by giving an increase to the monthly pension they are currently receiving. His stand is right at all angles because, when we were working, we squeeze ourselves to the fact that we need to make contributions to the SSS no matter how bad or good our current situation is. According to him, it is just right to increase the monthly pension and that Php2, 000 is not even worth of what we have done for the country.
Aquino declined this congress-approved bill and according to him, there are more or less 2 million pensioners that will be granted the Php2, 000 monthly increase and that means Php56 billion in a year. This will incur Php16 billion to Php26 billion yearly deficit to the SSS who has only a yearly income of Php30 billion to Php40 billion from investments.
According to the outgoing President's words, "Given this situation, the Social Security System will be constrained to draw from and use its Investment Reserve Fund (IRF) to support the pension increase. Consequently, the IRF will deteriorate over the years and will eventually reach zero (0) by the year 2029."
The bill that he vetoed is the House Bill 5842 or "Act mandating a P2, 000 across-the-board increase in the monthly pension with the corresponding adjustment of the minimum monthly pension under the Social Security System, amending for the purpose Section 12 of Republic Act No. 1661, as amended, otherwise known as the Social Security Act of 1997."
President Duterte voiced out his concerns and his feelings toward both the SSS and the GSIS, he said, "Listen, ang sama ng loob ko sa inyo, ganito, I am a mayor of a city where people would go to my office to complain, sometimes, the SSS and GSIS nagfa-follow up yan sila, at minsan, binibigay nila yung pension sa ibang tao and when you are confronted na may namatay na, doon pa ninyo malaman then you try to correct it, and it takes about two years to process it, My God." "Yan ang problema sa inyo, yan ang i-correct ninyo and sinasabi ko, one month with only five (5) signatures, not more than that, correction na agad, ora mismo, para di mahirapan," he added. 
Read: What things can we expect under a Duterte Government?
Our president is wholeheartedly concerned about his fellow Filipinos who have fought and worked hard for our country. Given all these situations, Duterte still remained determined in pushing to have this Php2, 000 monthly increase approved.
What are your thoughts about this? Let us know in the comments section below.