Rellenong bangus  (Stuffed Milk Fish) is one of the most-liked delicacies here in the Philippines. It's quite backbreaking to make; you will be needing tons of patience but it's worth doing. Considering the yummy and mouth-watering taste it has.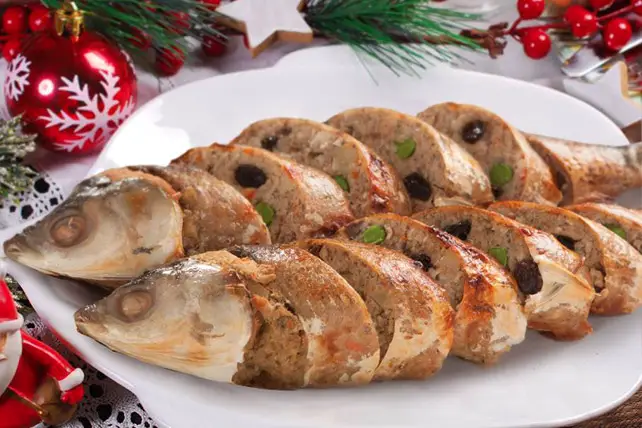 Image Via Maggi.ph
Compared to other fish recipes, it has a one-of-a-kind process of preparation.  Doing it is quite tiresome because of all the things that needs to be done.  From scaling, removal of the internal organs and gills, and deboning of the fish to stuffing in the fish meat and mixtures.
Since we Filipinos are known to be food-lovers, starting this business is going to be rewarding; that I can guarantee.
So what are the tips in starting this kind of business?
Before we get to what you need to start this business, let me give you concrete tips. First, you just have to balance everything out; buying accurate amounts that are within your budget. Furthermore, consider the freshness of the fish because it can make or break your recipe; precisely cook the ingredients. With all that,  people will know about your product by word-of-mouth. Soon enough, everyone will know about how it tastes and customers will tend to buy more and they might refer your products to their friends and relatives. You won't realize that your business is getting better and it will grow. Don't think about your profit at first; of course, you would first have to think about how your business will spread and how it will grow. Sparing out  few thousand pesos will get to a rewarding position, and that's a guarantee.
I have put in the steps in removing the fish meat from its skin, the lists of ingredients and also, the procedures of cooking the mixtures.
How can I remove the fish meat from its skin?
This method can actually be done in two (2) ways:
First method would be:
Cutting the back of the fish
Scrape the meat and bones of the fish from the skin
Stuff all the cooked ingredients;
Then sew it up with a thread and needle.
The second method is:
Break the bone in the neck and tail of the fish and using a spatula, palette knife or the handle of the aluminum ladle to remove the meat without breaking or cutting the skin.
Then squeeze out the fish meat from the skin beginning from the tail.
Although the second method looks shorter and easier to make, it actually requires some skill to execute it beautifully. In addition, there are many kinds of kitchen ladle today. We can either use an old typical aluminum "sandok" with a straight handle end and a hole for hanging it on a wall. Or, we can also use a pallete knife or frosting spatula.
What are the ingredients for me to make this rellenong bangus?
Note that the ingredients I will be listing here is good for one (1) large milkfish. After you've done it, you can estimate and experiment depending on how you want your stuffed milkfish appears or tastes.
Ingredients for the mixture:
1 large sized bangus/milkfish
1 onion, chopped finely
4 cloves garlic, minced
1 small sized carrot; prepare it in small cubes
A big-sized potato; prepare it in small cubes
1 box raisins (optional)
¼  cup pickles
1 raw egg, large
1 tsp. Vetsin (monosodium glutamate)
1 tsp. Salt
1 tsp. pepper (powder)
½ tsp. Worcestershire sauce
1 green bell pepper, chopped finely
2 tbsp. Flour
For the milkfish marination:
2 pcs calamansi (lime juice)
¼ cup soy sauce
Pepper
Now, for frying the milkfish:
Cooking oil; and;
1 box of flour
Instructions for scraping the meat fish from the skin:
Clean the fish. Of course, the very first step of cooking fish is cleaning it. Ensure that it is well-cleansed and that it does not contain the dirt from where you've bought the fish.
Gently pound on the fish to loosen meat from its skin.

You can use the flat side of a knife in pounding.

Break the big bone at the nape and on the tail. Insert the end of the handle of an aluminum kitchen turner or sandok through the fish neck.
Gently scrape down the handle between the meat and the skin.

Scrape down to the tail, going around and on the other side of the fish.

If you feel the meat is entirely separated from the skin, remove the handle; squeeze and push out meat with the big bone starting from the tail going out through the head. This way, you will be able to push out the whole meat without cutting an opening on the skin.
Set aside and boil the fish meat in little water.
Drain and pick out its bones. Afterwards, flake the meat.
Instructions on what to do with the skin:
Note that because you've cleansed the skin properly, it's safe to be eaten; depending on how you marinate it, its taste will be one big of a deal. If you will notice, frying bangus or milkfish tends to make its skin crunchy.
Clean the skin with water.
Marinate skin and head of fish with soy sauce and calamansi (lime) juice.
Instructions on how to prepare the mixtures you'll use to stuff the fish:
Saute garlic until it turns brown; add the onions.
Afterwards, add the bangus meat, carrots and;
Season with salt, vetsin, ground pepper, and Worcestershire sauce.
Transfer cooked mixture in a bowl. Then mix with raw egg and flour.
Fill in the bangus skin with the mixture.
Put some flour on the skin of the fish.
Fry in hot oil until golden brown.
Wrap bangus in wilted banana leaves or in aluminum foil.
After preparing it, keep in mind that there are two (2) ways on how it can be prepared:
You can reheat it by frying it with cooking oil or;
By using the microwave oven
Since we're talking about business, the packaging will depend on how you want it to be presented. Depending on how you market and present it, clients will surely come back to get more! One reason is because it's easy to eat. Easy to eat in a sense that when they buy, it doesn't anymore require them to prepare and to think of the ingredients. They can just unwrap it, reheat it and dig in. Another reason is because this kind of recipe contains different kinds of vegetables in it. In addition to the fish itself which is already healthy, the veggies inside would make a great impact and will complement the health benefits of the fish.
If you can, try reheating or cooking it in olive oil or vegetable oil. There won't be much difference besides the flavor and the moisture that cooking oil gives. However, since we're talking about health here, substituting it for vegetable or olive oil is what I can recommend.
Now, you thought that in order to have and run a business, you need thousands of pesos, right? But no, there are many kinds of businesses that can be rewarding like those businesses wherein you would need a fortune. Before pushing it through, try and create one for your family first. Ask them for their feedback and then decide whether you want it to be your business or not.
Rellenong bangus, I can say, is a Filipino favorite. Not just because of its health benefits and its taste, but also because of the hardwork and finesse behind it.