MVP (Most Valuable Partner) REWARDS Program is the new rewards program offered by Smart, TNT (Talk 'N Text), Sun and PLDT to their devoted consumers. It may soon become everyone's favorite  program because in the new MVP rewards program, you don't only get cash rebates from your Smart, TNT, Sun and PLDT Home accounts, you also have the chance to enjoy discounts and promotions.
Our customers are our most valuable partners and they deserve nothing less than an innovative and unparalleled rewards program," said PLDT Chairman and CEO Manuel V. Pangilinan.
A product of the tactical partnership of PLDT, Smart, and Voyager Innovations through its digital financial services arm, PayMaya Philippines, and its digital marketing arm, Hatch, the new MVP Rewards Program gets you rewarded by paying their monthly bills on time and in full.
Read: Smart Internet Promo: Smart Bro SurfMax Plus 100 – Unli FB, Messenger, Instagram, Viber, etc.
 Does the new MVP Rewards program work? 
You just need to register to the MVP Rewards account and enroll all your Smart, TNT, Sun, and PLDT accounts under it. It is combined under one wallet called the MVP Rewards Card. It is a prepaid VISA powered by PayMaya.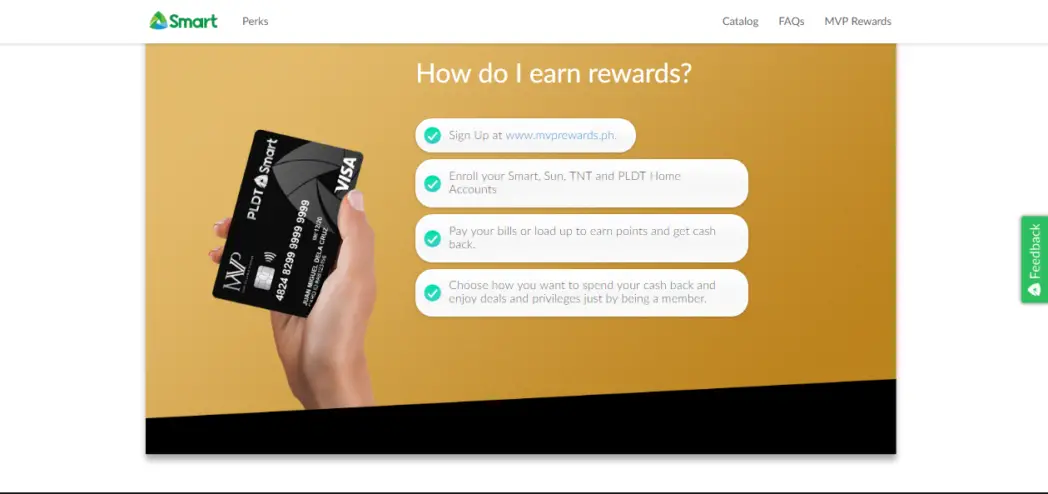 It can be used for purchases online or in establishments wherein a VISA debit/cards are accepted; this is where the rebates are credited. This makes earning faster and enables you to choose your reward like exclusive deals and privileges from partner establishments and stores when you flash the MVP Rewards Card.
The MVP Rewards Card comes in 2 forms with Card numbers that are different as an added security feature in cases like a physical card is lost:
Virtual Card – Mastercard
Physical Card – VISA
Upon registration to the new MVP rewards program, a PayMaya account will automatically be created for you. This allows you to credit your rebates to the card. By default, all MVP Rewards customers will automatically have a virtual card which they can access via the PayMaya app. Moreover, if you have an existing PayMaya app, the MVP rewards can be an addition later on. Be reminded that you can add up to three (3) physical cards to your PayMaya app
To get the physical MVP Rewards Card, you may purchase a physical MVP Rewards Card for Php300 at the nearest Smart/Sun or PLDT Retail Store (depending on what account you enrolled first). This way, you can have a physical MVP rewards card.
Redeem Rewards, may it be rebates, deals, privileges, freebies, exclusive access or discounts from hundreds of MVP Rewards partner merchants nationwide. For offers, you may show your physical or your virtual MVP rewards card.
Read: Globe GoUnli20: Unli Calls to Globe/TM, Unli All Net Texts, 20MB Data for 20 Pesos
How to Register for the new MVP Rewards Program 
Before you can enter the MVP rewards program, you first have to register through their online portal. This reserves a spot for you in the program where you can have a lot of freebies, offers, and discounts.
1. Go to www.mvprewards.ph/signup, fill out the details and tag along with the procedure. Once you've signed up, you can now add your Smart, TNT, Sun, or PLDT accounts in the "My Accounts" section.
2. Click the "Enroll An Account" button and choose from the drop-down list the types of account you're going to enroll. Enroll as many accounts as you want, the more accounts, the more opportunities you have to earn points and get cash backs.
Here's the list of accounts you can enroll.
Smart Communications
Postpaid account
Smart Bro Postpaid
Prepaid account
Smart Bro Prepaid
Smart Infinity
TnT (Talk 'N Text)
Sun Cellular
Postpaid account
Prepaid account
FLAP (Fixed Loan Plan 300)
Duo
Sun Cellular Bro Postpaid
Syntel
Sun Cellular Bro Prepaid
PLDT
Landline
Fiber
DSL
Ultra
Home Bro/Canopy
IMAX
*Use first 3 digits of the Service Reference Number (SON) as the area code. This Service Reference Number can be found in your billing statement.
**Use the mobile number to receive the one-time PIN.
When you've successfully enrolled your account, it will be marked as "Verified."  Remember that an account may be enrolled by one customer only. Once enrolled, nobody can enroll that particular number or account anymore.
1. Afterward, you will obtain a text message about claiming your MVP Rewards Card as well as a PayMaya card if you don't have any. You can claim your MVP Rewards Card at any Smart Retail Store near you. All you need to do is show the text message you received and bring 1 valid ID.
2. Once you've claimed your MVP Card, link it with PayMaya. Download PayMaya app from Google Play or Apple Store, register the same number you've registered in MVP, then add the MVP Card by going to My Cards > Link PayMaya Card. Enter the required information. Your card will be activated from there and you will be able to start using your card.
How are the rebates earned?
Postpaid accounts
For postpaid accounts with Smart, Sun, and PLDT Home, you will earn points for every bill paid in full and on time. This means that once it gets past the due date, you can't expect to earn points anymore. To ensure that you get the most out of your MVP rewards program, always pay on time and full.
Prepaid accounts
Prepaid accounts of Smart, Sun, and TNT, however, will earn points every time you load. This means that every time you load your prepaid number/account, you can expect to have points.
Points conversion:
PLDT Home: Php 250 = 1 point which is equivalent to a Php1.00 rebate
Smart, Sun, and TNT: Php 200 = 1 point which is equivalent to a Php1.00 rebate
Keep in mind that points earned with the MVP Rewards Card are considered as cash rebates and do not expire.
If you want to view your transaction history, it can be viewed under the "MVP Rewards" tab on the MVP website. Then, an SMS will be sent every time rebates are credited. To check the balance in your PayMaya account, log in to the app from your device. Or using your registered phone sim, just text BAL to 292907969.
Read: HIGHACTIVE30: Unlicall and text to Globe/TM/Cherry Prepaid, Free FB for 7 Days
Can An MVP Rewards Card Be Loaded With Cash?
MVP Rewards can actually be loaded with cash in different ways that are convenient for everybody. Money can be loaded into the card via:
Smart Stores
Smart Padala
7-Eleven
Touch Pay kiosks
Robinson's Department Stores
SM Business Center
Union Bank ATMs
Other FREEBIES Of MVP Rewards program
Being a member of the MVP Rewards Program is very worthwhile. Every member can enjoy special deals and privileges at various establishments nationwide just by showing their virtual or physical MVP Rewards card.
In addition to the rewards, each month, loyal customers are part of a members-only raffle where they can win bill rebates on so many everyday expenses. Rebates won are also credited directly to their rewards wallet.
According to Annette W. Tirol, FVP and Group Head for Loyalty and Rewards,
We designed the MVP Rewards program with one audience in mind – our customers. By providing them with their own virtual card powered by PayMaya, we are giving our customers more value and convenience in their rewards card.  All you need is now in your mobile phone: one wallet where rewards are credited, seamlessly combined with the most convenient way to shop, dine, and pay bills at your fingertips."
What are you waiting for? Join the new MVP rewards program now and earn what you deserve for being loyal and valued customers of PLDT, Smart, Sun, and TnT!