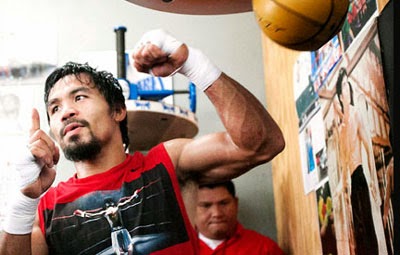 MANILA, Philippines – Boxing coach Freddie Roach is considering the possibility of adding another sparmate for Manny Pacquiao, now deep in training in General Santos City for his Nov. 24 fight against Brandon Rios in Macau.
Former two-time world champion Gerry Peñalosa, who's in General Santos City keeping tabs on Pacquiao's workouts, said yesterday Roach may send for one more sparring partner from abroad. Peñalosa said Roach might ask his Filipino assistant Marvin Somodio to bring over the sparmate with strength and conditioning coach Gavin McMillan. Somodio and McMillan are arriving from Los Angeles on Wednesday. They will be in the corner of Ruslan Provodnikov when the Russian battles Mike Alvarado for the WBO lightwelterweight title in Denver this morning (Manila time). Somodio confirmed his arrival with McMillan in a text message from Denver and said he will await Roach's instructions whether or not to recruit another sparmate.
Peñalosa said there may be a need to upgrade the quality of Pacquiao's sparring partners. At the moment, his sparmates are Liam Vaughan of England, Fredrick Lawson of Ghana and former PABA lightwelterweight champion Dan Nazareno of San Fernando, Pampanga. Marlon Alta, a 5-10 middleweight from General Santos City, was in the rotation previously. Alta is booked to face unbeaten Zac Dunn for the WBC Youth and interim PABA supermiddleweight championships in Victoria, Australia, on Nov. 29.
"Lawson and Vaughan are average but we're very happy with Nazareno's performance," said Peñalosa. "Nazareno fights like Rios and he's 5-9. Freddie wants another sparring partner like Nazareno so I contacted my friends who found an unbeaten Thai welterweight who's a regional champion. I think the Thai's record is 20-0 but I'm not sure. If there's no one from the US coming to reinforce our pool of sparring partners, maybe, we'll try the Thai."
A check on the top Thai welterweights today showed Prawet Singwancha at the head of the list. Singwancha, 36, has a 48-5-2 record, with 27 KOs, and lost a split decision to Jose Alfaro in a bid for the WBA lightweight crown in 2007. The problem is Singwancha is a southpaw and Rios is right-handed so he may not be able to mimic Bam-Bam's style.
"Vaughan and Lawson are helping out Manny particularly in testing his speed," said Peñalosa. "But once they get hit by Manny, they start running. Vaughan is tall like Rios who's 5-8 so it's good for Manny to get used to a taller opponent. The guy who's a big help is Nazareno who doesn't back off and tries to pressure Manny. I think we need one more sparring partner like Nazareno to complete the rotation."
Pacquiao's adviser Michael Koncz said training camp is proceeding smoothly. "I can't tell you if Manny is 70 or 80 or 90 percent ready for Rios," he said. "All I know is things are working out fine. The camp has been fabulous. The sparring has been great. Everyone's doing his part. I think Buboy (Fernandez) and Nonoy (Neri) did a super job taking care of Manny before Freddie arrived. Manny's in great shape. I'm looking forward to a decisive win over Rios."
Roach flew in with Vaughan, a Liverpool lightmiddleweight with an 8-1 record, including two KOs, last week. Vaughan, 23, is coming off a first round stoppage of Mike Alexander in Glendale, California, last August. He has won five in a row since losing a decision to Robert Dixon in a four-rounder in December 2011. The Liverpool fighter is unbeaten in four outings since transplanting to Los Angeles where he is a regular at Roach's Wild Card Gym.
Lawson, a 2008 Beijing Olympian, boasts a 21-0 record, with 19 KOs. He's fresh from a 12-round decision over Georgia's Giorgi Ungiadze for the IBF International welterweight diadem in Accra last July. Lawson turned pro in March 2011 and that year, posted a 12-0 record, keeping busy at an average rate of one fight a month with two fights in April and two fights in August.
Nazareno, 24, is nicknamed Ironman. His record is 17-10, with 13 KOs. Six of his losses were by 12-round decisions. Last November, Nazareno was stopped in two rounds by Min Wook Kim in an OPBF lightwelterweight title fight in Ansan City. Kim was invited to spar with Pacquiao but declined. Nazareno turned pro in 2006 and although he has lost three of his last four, is far from being a pushover. In 2009, he knocked out Koji Numata in four rounds in Tokyo and a year later, halted Thai Manfa Luksaikongdin in six for the PABA lightwelterweight crown in Ayutthaya. Four of his knockout wins came in the first round. source