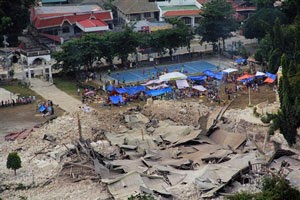 AP Photo/ Philippine Air Force
MANILA, Philippines — The death toll from a killer quake in the central Philippines is likely to approach 200 as rescue teams focused on finding dead bodies buried under landslides and fallen structures, an official said Sunday.
A total of 185 deaths have been confirmed so far from the 7.2 quake that shook the tourist island of Bohol on Tuesday, toppling bridges, shattering roads, causing landslides and reducing historic churches to rubble.
Bohol suffered 172 dead alone with over 120 dead from falling structures, said Augusto Escopia, the island's information officer.
"Our conservative estimate is that there are roughly 180 to 185 dead in Bohol alone," he told AFP, a day after authorities halted the search for survivors and focused on recovering dead bodies.
The quake also left 13 others dead in the central islands of Cebu and Siquijor, the National Disaster Risk Reduction and Management Council said.
The recovery of bodies in Bohol will likely last one more week, said Escopia, adding that reports from some hospitals indicated that there were further fatalities to be counted.
There are also nine more missing in Bohol, he added amid fading hopes they would be found alive.
The biggest problem facing the more than 1.2 million residents of Bohol island is the need for shelter after the quake destroyed or damaged many homes, he added.
"They (the residents) are afraid to go home because there are still aftershocks. Some have cracks on their walls. They are still afraid to go inside," Escopia said.
About 600 kilometers (370 miles) from capital Manila, Bohol is known for its beaches, its rolling "Chocolate Hills," tiny tarsier primates, and centuries-old Catholic churches, many of which collapsed or sustained heavy damage.
Thousands of people in Bohol have taken to camping out in the open in front of damaged houses and buildings to avoid being crushed in case their buildings collapse further, Escopia said.
Both the government and foreign aid groups have been sending in tents to help residents, he added.
More than 370,000 people were displaced while more than 36,000 houses have been damaged in Bohol due to the quake, the National Disaster Risk Reduction and Management council said in a statement.
The Philippines lies on the so-called Ring of Fire, a vast Pacific Ocean region where many of Earth's earthquakes and volcanic eruptions occur.