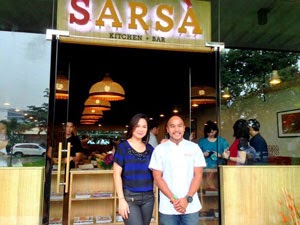 Chef JP Anglo with "MasterChef Pinoy Edition" host Judy Ann Santos, who was the special guest during the opening of Sarsa Kitchen + Bar. Photo by Vladimir Bunoan for ABS-CBNnews.com
MANILA – While he is not planning to join Manila's current ramen craze, Bacolod-born Chef JP Anglo is hoping to upgrade the humble batchoy into the Philippine version of the Japanese specialty.
Anglo, who is more known as "Chef Jayps" from his stint as a judge on "MasterChef Pinoy Edition," recently opened Sarsa Kitchen + Bar at the Bonifacio Global City, his first restaurant in Metro Manila, which specializes in Negrense cuisine from Iloilo and Bacolod.
"I have this goal na I want to elevate batchoy. I want to elevate a humble dish to …not naman ramen level as that might be too ambitious for now," he told ABS-CBNnews.com at the opening of Sarsa. "It's sort of like a masterpiece that I want to work on. It's a work in progress and we're getting there."
Two kinds of batchoy are served at Sarsa: the traditional noodle soup; and a "special" version that includes bone marrow, fresh egg and bacon-cut liempo. Indeed, the special batchoy, which Anglo described as "hearty," has a deep-flavored broth that's reminiscent of Japanese ramen but still unmistakeably Pinoy.
Apart from the batchoy, Anglo also gave the Ilonggo specialty molo his own twist. "'Yung filling niya prawn and pork dumpling, parang Chinese style, so it's a Tsinoy molo," he said, adding that in Bacolod, where he owns two restaurants, Mai Pao and Mu Shu, this molo is served with Hainanese chicken. "But here naman, we serve it with just chicken strips. 'Yung play niya is the dumplings."
While Anglo describes his cooking style as "very inventive, creative and playful," there are some dishes that he would prefer to keep as is.
"If it's inasal, I will not touch it. Maybe the sauce, sige, I'll play. But nandoon pa rin 'yung essence, I don't want to reinvent the wheel. I'll add a little bit lang," he said of Sarsa's inasal which are served in steel skewers for a more modern look.
But Anglo went all-out playful with the lechon kawali, which is served with a choice of two sauces: the more traditional pinakurat coconut vinegar and a sauce made from local tablea chocolate and the Ilonggo fruit batwan.
"That chocolate sauce it's either you like it or you don't and it's okay with us. Just for kicks, just for fun," he said, adding that he chose to create a native coffee sauce for the thin-cut liempo. "The thin-cut bacon belly, we serve it naman with coffee sauce and burong vinegar. Personally every time I have pork, I dip it immediately in vinegar."
Anglo said he personally likes putting sauces on his food, which explains the restaurant's name. "I love putting stuff. I like adding extra garlic, extra spring onions. I like to have a half a bowl of bagoong beside my kare-kare. I would always create these sauces out of nowhere," he said.
Unlike his fellow judges on "MasterChef Pinoy Edition" Rolando Laudico and Fern Aracama, who both run high-end Filipino restaurants with Bistro Filipino and Aracama, respectively, Anglo chose to keep Sarsa simple and, more importantly, affordable. An order of chicken inasal is priced at only P165, while the special batchoy costs P240.
One of the highly recommended dishes here is the tender lechon baka skewers, served with home-made aioli sauce and priced at P295. There is also his take on the humble tortang talong topped with bits of kesong puti and crispy sardines and served with yummy chili banana ketchup for only P155.
Anglo explained that he wants customers who can eat at Filipino restaurant any time. "It doesn't have to be a special occasion," he said when asked about Sarsa's concept. "I also want to serve the office crowd here at the Fort, a place na pwede sila pumunta three times a week."
He also noted that he isn't the type who likes fine-dining restaurants. "Every time I eat out, if I go to Europe, I would never eat at fine dining restaurants. Street food palagi, 'yon ang style ko. I don't want to serve fine dining, I want to serve what I eat so street food, comfort food," he said. full story