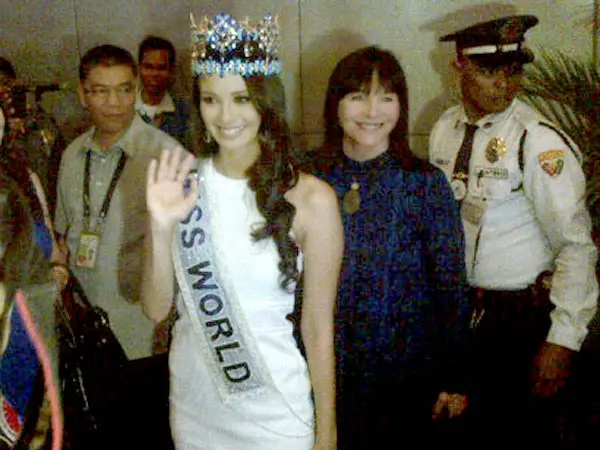 MOST BEAUTIFUL IN THE WORLD Miss World 2013 Megan Young waves to the crowd at the Ninoy Aquino International Airport Thursday, Oct. 10, 2013, following her arrival aboard Cathay Pacific. MATIKAS SANTOS/INQUIRER.net
By Matikas Santos INQUIRER.net
MANILA, Philippines – Miss World 2013 Megan Young was brought to tears when she finally arrived back home in the Philippines Thursday after becoming the first Filipino to win the prestigious beauty pageant.
Wearing her crown and sash, Young arrived around 4:20 p.m. on Cathay Pacific flight CX 919 from Hong Kong and was greeted by hundreds of staff of the Manila International Airport Authority.
Speaking before the media, Young could not hold back tears of joy as she said she was "overwhelmed" by the reception of the Filipino people.
"It's an amazing feeling," Young managed to say before shedding tears of joy. "It's an overwhelming feeling, how warm I was met here in the Philippines."
"These are tears of joy. I'm just really happy to be home and just really happy to see everyone," she said.
Young is coming from her first tour of London since being crowned Miss World 2013 in Bali, Indonesia last September 28.
Young will proceed to Solaire resorts for a press conference and then will perform the ceremonial toss between the game of Houston Rockets and Indiana Pacers in Mall of Asia Arena in the evening.
"I will be with my family and friends; most of my personal time will be spent with them," she said.
"It has not yet sunk in actually, I'm still overwhelmed by everything that is happening with me right now," Young said. Read Full Story