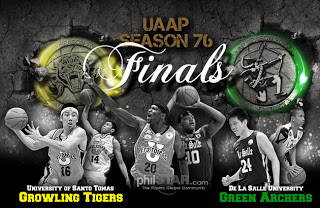 By Pio Garcia – philstar.com
I did say the UAAP Finals was going to a Game 3, didn't I?
Well, it's a good throwback to that '99 series between DLSU and UST. If I remember right, Dino Aldeguer made the shot of his career against Aric del Rosario's mighty Tigers, who feasted on everyone but dropped the last two games to lose the title. Then, seven years later, UST did a reverse, upending Ateneo in come-from-behind-fashion.
Is DLSU raring for another come-from-behind feat?
Or is UST going to rewrite history?
One way or another, I'll be thanking the basketball gods for giving me one hell of a show on Saturday.
I have to throw out the stats, scenarios, Xs and Os, and all the dilly-dallying. It's the last game of the season. And I'm pretty sure it won't be like that Ateneo-UE decider that was really one-sided. We're in for a tight, heart-stopping action folks. It ain't for the weak.
What to expect?
Well, for one, will Karim Abdul and Paolo Pe shrug off the whistles and just play on? It was evident that Abdul got called for ticky-tack and let-go fouls, but he let it get into his head every trip down. I mean, come on big man, stop complaining and just flat-out ball. Play through the calls. That's what champions do. Aljon Mariano should also come to play. Yes, he's been playing through injuries all season long, but this is crunch time sir, time to suck it up and lay it all out on the hard court if you want to celebrate #06in76.
As for DLSU, they should pray that Norbert Torres and AVO have their A-games on like last Saturday. A combined 29 points and 24 rebounds ain't squat. Those guys put in the work and exposed UST's very thin frontline outside of Pe and Abdul. It certainly doesn't hurt that Jeron Teng, the King Archer, hung 19 points and nine boards of his own on Kevin Ferrer. Just the tally from those three frontliners alone, that's a whopping 48-point, 35-rebound output. That's more than half of the points on the board and around 80 percent of your team rebounds. That, in other words, is a total beatdown ladies and gentlemen.
However, the bright side for the Tigers is that they don't give up. They go down guns blazing, exemplified by King Tiger, Jeric Teng, who burned DLSU and took names en route to his 28-point night. But he seriously lacked help outside of Abdul, who we have said has been complaining about ticky-tack calls instead of just balling like no tomorrow. I'm expecting Jon Sheriff to step up once again as he has been the barometer of how UST ran in the second round. This guy has been a great +/- for his team. When he's directing traffic, the Tigers know where to go as opposed to when he's sitting on the bench due to foul trouble. Continue Reading