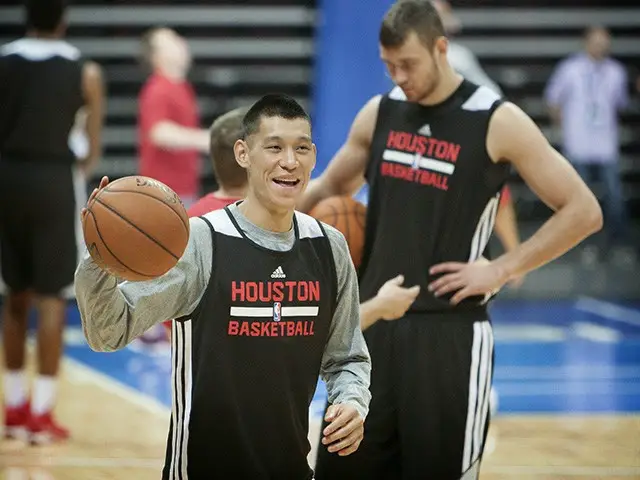 Jeremy Lin takes part in a Rockets practice session. Roehl Niño Bautista, GMA News
by JOB B. DE LEON, GMA News
As an Evangelical Christian, Houston Rockets point guard Jeremy Lin said he supports Filipino boxer Manny Pacquiao's efforts in publicly voicing his faith.
"Everyone has the right to be themselves," said Lin, upon hearing of Pacquiao's own outspokenness with regards to his religious life. "I think for him to talk about what's important to him, I don't think anybody should be able to say what he can or can't say who he is as a person. As long as he's trying to be real, that's fine."
Lin himself is a fervent Evangelical Christian, and attributes his NBA success to his own faith and trust in God, as documented in the film "Linsanity" which was screened at the Sundance Film Festival.
He said that he's thankful that people cared about his story and drew inspiration from his unlikely NBA journey. "Hopefully they can see through the story and chase their dreams and their passions, regardless of their race, their size, their gender, or whatever," said Lin.
Lin added that his own faith keeps him grounded "It's why I do what I try to do, and try to be the person who I try to be," he said. "It's a constant battle. We're human, and there's that constant element of pride that you have to fight. I just want to be as much of myself as I can, and be as real and as authentic as I can be."
Regarding the upcoming basketball season, Lin said he's looking forward to incorporating one-time Laker Dwight Howard into Houston's offense, adding though that they're pressed for time.
"We got some great pieces and I think we really have a chance to contend for a championship. We're just at the beginning of the journey and we're all just trying to get to the point where we're on page," he said.
Lin added that the Rockets are hoping Howard can help them get more open three-pointers and draw fouls, while he personally wants to sync well with him in terms of running the pick and roll. Continue Reading