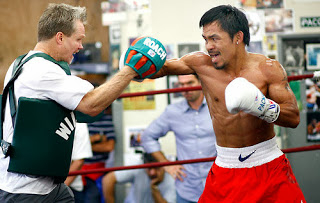 by Jonas Terrado – Manila Bulletin
Hall of Fame trainer Freddie Roach has vowed to turn Manny Pacquiao into a human wrecking ball for his crossroads fight with young tiger Brandon Rios on Nov. 24 in Macau.
Roach said in an HBO interview over the weekend that he is aching to fly to the Philippines to hook up with Manny Pacquiao and kick off the most crucial phase of their preparation.
"(He'll be) more than ready," said Roach, who is arriving in Manila tomorrow morning and immediately heading to General Santos City in time for Pacquiao's afternoon workout, including a sparring session set for five or six rounds.
Pacquiao and Roach are pressured to come up with a stellar showing following back-to-back losses last year and Rios seems like the perfect opponent to bring back the luster of the 34-year-old Filipino star.
With his rugged and devil-may-care attitude, Rios appears to be somebody who can make Pacquiao look extra-ordinary in their scheduled 12-round welterweight match at the CotaiArena.
But in an interview with boxingscene, Rios also expressed optimism that the result will be in his favor.
"(My goal is to) send Manny Pacquiao into retirement," said the underdog 27-year-old Rios, stressing that what Tim Bradley of the US and Juan Manuel of Mexico couldn't do–force Pacquiao to hang up his gloves–will be accomplished next month in Macau.
"Out with the old, in with the new."
According to oddsmakers, Pacquiao is a 3-1 favorite to prove Rios wrong. More Articles