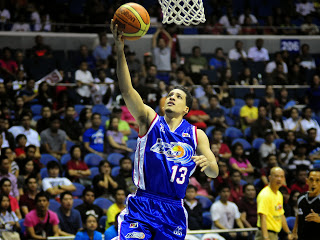 Petron's Marcio Lassiter waxed hot to push Petron
past the pesky Rain or Shine Elasto Painters. KC Cruz
The Petron Blaze Boosters blitzed the defending champs Rain or Shine Elastopainters in the third quarter en route to a 110-89 victory, Monday at the Smart-Araneta Coliseum. With the win, the Boosters arranged a duel with the San Mig Coffee Mixers for the 2013 PBA Governors' Cup title.
Rain or Shine had earlier forced a game four in the best-of-five series last Saturday, 92-87, but the overall number one seeds Petron made sure to close this one out, burying the Elasto Painters under a barrage of three-pointers.
The last time these two teams met in the Finals was way back in the 2000 PBA Governors' Cup with the San Miguel Beermen winning over the Purefoods TJ Hotdogs four games to one. That series featured two of the most prolific imports of that era as the Jong Uichico-coached Beermen paraded Lamont Strothers while the Derrick Pumaren-helmed Hotdogs had Derrick Brown.
Leading by only six points at the half, the Boosters exploded early in the third quarter. Elijah Millsap and Alex Cabagnot combined for 28 points in the quarter to give the Boosters a lead that reached 25 points. The proud Elasto Painters tried to fight back even with key players injured, but their deficit was too steep for them to overcome.
"I'm very, very happy about this win," said Petron head coach Gee Abanilla. "I give credit to the Rain or Shine organization. Even with some players injured, they fought tooth and nail and fought us to the limit." Abanilla will make his first PBA Finals appearance in his very first conference as a head coach.
Millsap led the Boosters with 34 points and eight rebounds, while Cabagnot chipped in 23. Marcio Lassiter also had his best shooting game as a member of the Boosters. He totaled 27 points, connecting on 7-of-10 from three-point territory, most of which came when the Elasto Painters were threatening to make a comeback. Lassiter also added 12 rebounds.
"I just wanted to keep shooting until I missed. Tonight was just my night," Lassiter said after the game. "The first two [triples], they helped off me so I kept shooting. This game I think they wanted to take away June Mar and they did it. I guess I was just ready."
The Boosters led 6-5 when Beau Belga was called for a flagrant foul penalty one on Ronald Tubid at the 8:25 mark of the first. After two made free throws from Tubid, Gabe Norwood quickly replied with a fast break layup followed by a short jumper from Arizona Reid for a 9-8 ROS lead. Full Story