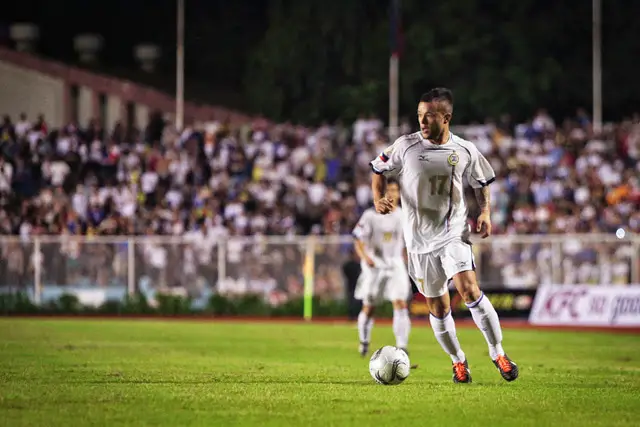 InterAKTV file photo/Markku Seguerra
The Philippine national men's football team will be bolstered by its top international and local players when the Azkals defend their title in the 2013 Philippine Football Peace Cup at Panaad Stadium in Bacolod City this week.
With the tournament falling on FIFA match dates, the Azkals were able to secure the services of foreign-based stars Stephan Schrock, Neil Etheridge, Jerry Lucena, and Rob Gier.
Brothers Phil and James Younghusband of the Loyola Meralco Sparks and Chieffy Caligdong of Green Archers United Globe headline the local players tapped by Azkals coach Hans Michael Weiss.
Also joining the team are brothers Angel and Juani Guirado, Marwin Angeles, Misagh Bahadoran, Jerry Barbaso, Jeffrey Christiaens, Jason De Jong, Ed Sacapaño, Paul Mulders and Mark Hartmann of Global FC; Chris Greatwich and OJ Porteria of Kaya FC; Patrick Deyto of Green Archers; and Patrick Reichelt, who now plays in Thailand.
The Azkals will battle Chinese Taipei on Friday and Pakistan on October 15 for the Peace Cup, which the Filipinos won last year for their first title in almost a century. The two visiting squads face off on Saturday.
The Philippine Football Federation hopes that the Peace Cup could help promote peace and order throughout the country especially in Zamboanga, where a bloody standoff between Moro National Liberation Front fighters and government forces happened last September.
"The Peace Cup is football's contribution to help highlight every Filipino's desire for peace, especially in Mindanao conflict areas. Football values of fair play and respect are aligned with the ongoing peace process," PFF secretary-general Ed Gastanes said.
Tickets for the match are pegged from P50 to P500 and can be bought at TicketWorld, The Planta Hotel and at the Panaad Stadium in Bacolod. Full Story