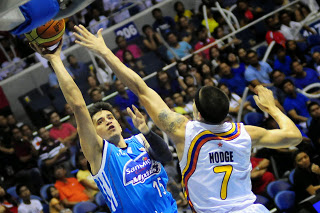 The San Mig Coffee Mixers relied on lockdown defense in the endgame to defeat the Meralco Bolts, 79-73, on Sunday at the Smart-Araneta Coliseum, putting them in the Finals of the PBA Governors Cup for a second straight season.
The Mixers led from start to finish, but they had to weather through a fierce rally from the Bolts late in the fourth quarter. Down 11 with eight minutes left in the game, Meralco rallied, led by their injured import Mario West, as Reynel Hugnatan got the Bolts to within a basket in the dying seconds of the game. However, Marqus Blakely found Mark Barroca wide open down low to give the Mixers a 77-73 lead that clinched their ticket to the Finals.
Blakely, who became the first import to lead his squad to back-to-back conference Finals, had another tremendous all-around game with 23 points, 19 rebounds, two assists, five steals, and a block. He also made two crucial free throws in the endgame to rob Meralco of their shot at a miraculous comeback.
"We just don't know how to do it easy. We always have to make it harder for ourselves," lamented San Mig Coffee head coach Tim Cone. "They put us at the edge of our seats. This goes to show how much fighting spirit Meralco has."
James Yap saved his best performance in the semifinals for last, scoring 19 points on 8-of-14 shooting from the field. Gilas Pilipinas forward Marc Pingris also had a good game with 16 points and seven rebounds.
"Mario West was hurting but they powered through it. When they started with him, we thought he was just a decoy. He was taken out quickly but he played great when he returned," Cone said. West didn't score in the first quarter, but he still led his team when the final buzzer sounded with 22 points, while grabbing 17 rebounds.
The Mixers started the game by attacking the paint. Marqus Blakely and Marc Pingris earned easy baskets inside for a 6-0 lead. The Bolts got their first point of the match at the 8:01 mark of the first after a free throw from Jared Dillinger.
The Mixers then replied with a 7-0 blast from Blakely and James Yap to lead, 13-1. The Bolts got some offense going, but Blakely continued to beast inside. The import slammed home a PJ Simon miss to give San Mig Coffee a 20-8 lead with 4:13 left in the first.
Mark Cardona was then inserted into the game to give the Bolts an extra option on offense. He scored six straight to cut San Mig Coffee's lead to eight, but Mark Barroca ended the first with a triple for a 27-16 count.
"Coach Ryan [Gregorio] coached a really, really good game tonight. He coached better than I did," said a gracious Cone after the game. "They just ran into some bad luck getting Mario West injured." Aside from West, Cliff Hodge played hurt as he was limited to only 12 minutes in the game. But even with two of their top guys not feeling 100 percent, the Bolts gallantly fought back.
Cardona scored 13 points in only 19 minutes of play for the Bolts while Reynel Hugnatan added 13 points and 12 rebounds. Chris Ross was the surprise of the game as he played 29 minutes after barely getting any floor time in the past games. The do-it-all court general ended with nine points, five rebounds, three assists, and two steals.
Mario West, injured shoulder and all, made his presence felt in the second quarter. He scored on a long jumper followed by an and-one play to cut the Mixers' lead to six at 29-23.
The action heated up at the 5:29 mark as Jay-R Reyes was called for a technical foul for hitting Blakely behind the head after play was halted. Barroca converted on the free throw and Yap followed up with a three for a 39-29 San Mig Coffee lead.
Chris Ross and West then conspired to get the Bolts closer. However, the Mixers still led 45-38 at the half. Full Story