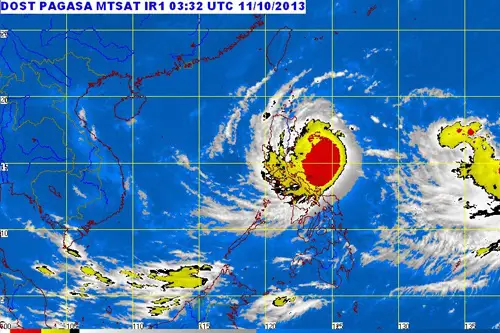 MTSAT ENHANCED-IR Satellite Image as of 10:32 a.m., 11 October 2013. Image courtesy of PAGASA
MANILA – Seven areas in Luzon have been placed under public storm warning signal number 3 due to typhoon "Santi," the Philippine, Atmospheric, Geophysical and Astronomical Services Administration (PAGASA) said Friday.
PAGASA said the provinces of Aurora, Isabela, Quirino, Ifugao, Nueva Viscaya, Benguet and Nueva Ecija have been place under signal no. 3 and will experience 100 kph-185 kilometers per hour (kph) winds in 18 hours.
As of 10 a.m., the eye of the typhoon was spotted over the Philippine Sea, or 240 kilometers east of Baler, Aurora.
The typhoon gained strength, now packing maximum sustained winds of 130 kilometers per hour near the center and gusts of up to 160 kph. It is forecast to move west northwest at 15 kph.
Signal number 2 (60 to 100 kph winds in at least 24 hours) has been hoisted over the following areas:
La Union
Pangasinan
Ilocos Norte
Ilocos Sur
Cagayan
Apayao
Kalinga
Abra
Mt. Province
Tarlac
Zambales
Bulacan
Pampanga
Northern Quezon
Polilio Island
Meanwhile, the following areas are now under signal number 1 (30 to 60 kph winds in at least 36 hours):
Metro Manila
Calayan Group of Islands
Babuyan Group of Islands
Bataan
Rizal
Cavite
Batangas
Laguna
Lubang Islands
Rest of Quezon
Marinduque
Camarines Sur
Camarines Norte
Albay
Catandu