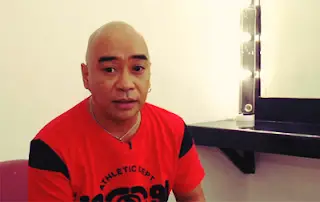 When will Wally Bayola ever recover from the trauma, humiliation, and shame brought about by his recent leaked sex video scandal? It seems that the time has not yet arrived. Until now, the comedian is still in hiding because obviously, he wants to avoid the prying and judgmental eyes of people.
If reports are true, Wally could be at the darkest times of his life. To make matters worse, he reportedly has to come in disguise whenever he goes out of his house so that people would not recognize him. According to some sources, Wally has grown hair, moustache, and beard to obtain a totally different look. 
Sources claim that the comedian even changes his name as well as the pitch of his voice whenever he goes out. He reportedly does so in hope that no one could ever tell that he is the infamous comedian. This may indicate that Wally is not yet ready and courageous to face the public after the humiliating experience he recently had.
Unfortunately, Wally has to return to his work soon. According to reports, his supportive wife has already called GMA-7 to inform the management that her husband is ready to resume work (as part of weekend game show 'Celebrity Bluff'). Wally's family is currently in crisis because he has a daughter who is undergoing treatment for cancer.
For those who are asking when Wally would return to co-hosting 'Eat Bulaga,' the answer would be on the negative. TAPE, Inc, the producer of the noontime show has reportedly declared that it may take some more time before they allow the comedian to resume his work.
This could be because 'Eat Bulaga' is and will always be a show for the family. The producers must be worried that putting Wally back to the show might turn off not just some viewers but more importantly, a number of advertisers. Full Story