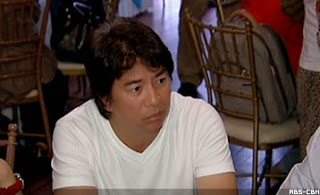 Willie Revillame is at it again. After his constant denials that his noontime show 'Wowowillie' was cancelled by TV5 due to poor ratings, he has finally admitted that it was the truth. It could be just a slip (again) of his big fat mouth, but he has again confirmed that in show business, there is no smoke if there is no fire.
In May, when the show's cancellation was reported, he denied reports that TV5 decided to axe it. He claimed that it was him who decided to discontinue the show in October when he ends his network contract. That time, he said he wanted to take a break in showbiz because he has become too busy. Now, he is eating his past words.
The days of his noontime show are numbered. 'Wowowillie' will bid its loyal viewers (if there are any more out there) goodbye when it airs it final telecast on Saturday (October 12). And just like the old Willie, he seems unable to control his temper and his mouth in making revelations even on air.
Last week, Willie revealed that the TV5 management pulled out utility services in his studio, Wowowillie Studio, formerly Delta Theater in Quezon City. He disclosed that the studio is being maintained by his own staff because the janitors and other maintenance personnel were pulled out by the network months ago. Continue Reading