Miss World 2013 winner, Megan Young from the Philippines appeared on the British Broadcasting Corporation (BBC) News on October 4, her first visit as Miss World in London, where the MW Organization is based.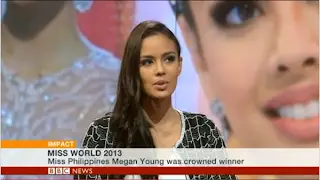 The 23-year old Filipina beauty talks about being honored to win the competition joined by 126 other ladies from accross the globe. MW 2012 Wenxia Yu of China crowned Young on September 28 in Bali, Indonesia. Miss France, Marine Lorphelin, 20, was first princess while Miss Ghana, Carranzar Naa Okailey Shooter, 22, was second princess. 
Young was the first Filipina to win the crown in the 63-year-old pageant. Only four Filipinas entered the Top 3 ever since the pageant began. Before her, the highest placement the Philippines won was first runner up with Gwendoline Ruais in 2011 and Evangeline Pascual in 1973. Actress Ruffa Gutierrez was second-runner up in 1993.