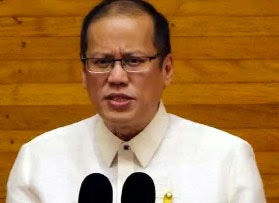 MANILA, Philippines – President Benigno Aquino III declared a state of national calamity Monday due to the havoc caused by monster typhoon Yolanda (international name Haiyan).
In a nationwide address broadcast live on television, the President said he had declared a state of calamity in order to speed up the relief effort.
"We have declared a state of national calamity in order to speed up the delivery of rescue, relief and rehabilitation efforts in the provinces devastated by Yolanda," he said.
"This is also important, not just in controlling the price of basic commodities and services which are needed by our countrymen, but also to prevent overpricing and hoarding of vital products," Aquino said.
Additional funds have been approved for the Department of Social Welfare and Development (DSWD) and Department of Public Works and Highways (DPWH) so they could immediately help the affected people get back on their feet, he said.
"We have approved an additional P1.1 billion to add to the quick response funds of the DSWD and DPWH," he said.
Aquino also said that 22 countries have provided or pledged to provide aid and support for relief operations in the devastated areas. He also noted the efforts from the private sector
Yolanda wreaked havoc across provinces in the Visayas region leaving a wide area of destruction and at least 250 individuals dead. Local authorities fear the death toll could rise to more than a thousand.
Several far-flung towns in Eastern Samar and in Leyte provinces have yet to be reached by relief personnel. Communication and power lines also remain down.
Many residents in the affected towns have resorted to looting to get food and other vital supplies.
Aquino said that the national government had to step in to conduct the relief and rescue operations since the some local government units, which were supposed to be the first responders, had also suffered severely.
"There are local governments that, due of the strength of the storm, broke down because their personnel and officials also became victims," he said.
Because of the lack of communication and power, the organization of relief efforts was hampered. "This caused chaos in some areas," Aquino said.