Starting this Monday November 4, 2013 on Be Careful With My Heart, Maya Dela Rosa is wondering where is Nanay Teresita, she asked Pocholo "Cho" but he didn't know. She tell it to Ser Chief about her mother situation but he tell and comforted her that she will be OK and there's no need to worry about her.
Meanwhile talking about the nearing date of "Wedding of the Year", Ser Chief already decided where to take Maya for their honeymoon, can you guess where? Ricky (Ser Chief) mention snow… that Maya wanted to see snow. Maya was so excited when he gave to her their itinerary.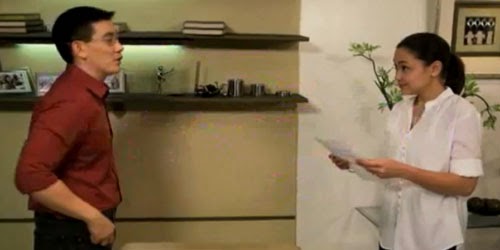 Photo courtesy of ABSCBNOnline Youtube (Screenshot)
Find out what will happen on November 4, 2013 episode of Be Careful With My Heart by visiting the official website of ABS CBN Replay show iwantv.com.ph or tfc.tv for Filipino abroad.
Watch the teaser preview below courtesy of ABSCBNOnline Youtube channel.

Be Careful With My Heart main cast Jodi Sta Maria as Maya Dela Rosa , Richard Yap as Richard "Ser Chief" Lim, Mutya Orquia as Abigail Ruth "Abby" Lim, Janella Salvador as Nikki "Nik-Nik" Grace Lim, Jerome Ponce as Luke Andrew Lim.