This Monday November 4, 2013 on Galema: Anak Ni Zuma, Galema's (Andi Eigenmann) secret will reveal. This happen when William (Byan Santos) confronted her while she was walking alone in the hallway, he said that he knows that she the daughter of Zuma.
Meanwhile Galela Carriedo (Shery Cruz) cannot control herself when Zuma's venom inside her body started to effect and used her body to find his daughter. By controlling her mind she can tell to him where is the exact location of Galema.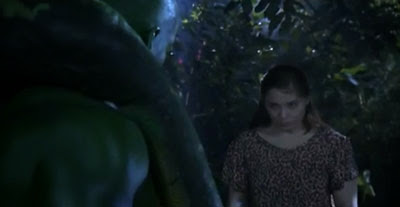 Photo courtesy of ABSCBNOnline Youtube (Screenshot)
Galema: Anak ni Zuma main cast Andi Eigenmann as Galema Castillo, Matteo Guidicelli as Morgan Villalobos, Meg Imperial as Gina Castillo, Sunshine Cruz as Isabel Carriedo-Castillo / Malena, Sheryl Cruz as Galela Carriedo, Carlos Morales as Philip Castillo, Lito Legaspi as Agustin Carriedo, Divina Valencia as Rosalinda Carriedo, Derick Hubalde as Zuma.
You may watch the full episode replay of today's episode at www.iwantv.com.ph for people here in the Philippines and www.tfc.tv for people abroad.
Watch the preview episode below