Floyd Mayweather continues to refuse to fight with Manny Pacquiao but nothing's stopping him from poking fun at the Filipino boxing champ!
Right after Christmas, Mayweather once again posted an edited photo of him and Pacquiao in a boxing ring. The photo shows him landing a hard punch on Pacquiao's face.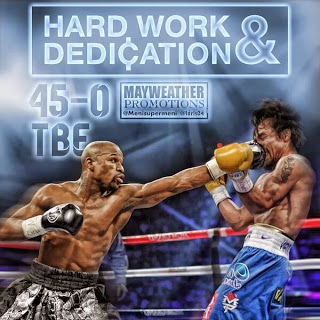 The caption "Now you're telling me I got to eat Juan Marquez's leftovers? Let m talk to the IRS about this" is obviously a mockery for the Filipino champ. It alludes to the time when Pacquiao was knocked out by Marquez and his recent tax trouble in the Philippines and the U.S.
And this isn't the first meme that Mayweather made about Pacquiao. On Christmas eve he posted a photo captioned "This is my Christmas card to the world. Happy Sleepy Holidays zzzzzzz." It contained photos of him and Pacquiao talking over cellphones. Mayweather's photo says "Manny, I'll give you 40 million to fight" and "No way, you're crazy. 50/50 or nothing" was the reply.