Househelp or kasambahays are encouraged by the Department of Labor and Employment-Regional Office 2 (DOLE 2) to report employers who do not give them their 13th month pay.
Paying of 13th month pay is a part of the Republic Act (RA) 10361 or the Domestic Workers Act or Batas Kasambahay.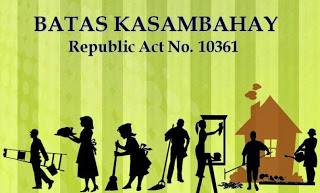 According to Atty. Sixto T. Rodriguez, Jr. DOLE 2 Regional Director, even a househelp who has been employed for at least 1 month should be given 13th month pay which should not be less than 1/12 of his or her basic salary earned for one year.
By this time it is expected that all 13th month pay of kasambahays should have been given already since RA 10361 states that the 13th month pay should be given not later than December 24 each year or upon separation from employment. 
Source