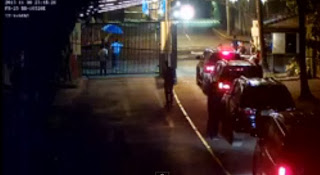 A CCTV video showing the standoff between Makati Mayor Junjun Binay and his guards and the Dasmariñas Village security guards is now making waves in the social media. 

A source who chose to remain anonymous told the Philippine Daily Inquirer that the 24-minute video was taken last November 30 at the gate of Banyan and McKinley Roads.
The video shows the security guards refusing to allow Mayor Binay's four-car convoy to pass through the gate. Apparently, the security guards did not raise the steel barrier because vehicles are not allowed to go by the said gate after 10 p.m. It was almost midnight when the Mayor Binay's convoy tried to pass through that night.
At the account of Inquirer's source, when the security guards did not lift the barrier, Mayor Binay stepped out of the vehicle and approached the guards asking "Don't you know me?" And then the mayor took out his cellphone and after a few minutes some armed policemen arrived on the scene. These policemen lifted the barrier to allow the mayor's convoy to pass through. After that they arrested the arrested the two security guards. Virgilio Robang, the Dasmariñas Village security officer in charge was arrested as well when he arrived on the scene.
According to Inquirer's source, the two security guards and Robang were brought to the police station where they were detained for four hours. When Inquirer phoned in the Makati City Police headquarters about it, Supt. Manuel Lucban told the newspaper that the guards were only brought in for verification purposes.
Witness to the incident was Mayor Binay's sister Senator Nancy Binay who was riding in one of the four cars.
After the Philippine Daily Inquirer published its story about the incident, Mayor Binay's camp reacted immediately saying the guards were not arrested and that they went with the police voluntarily. Also, they said that the guards only stayed there for an hour.
On Thursday, Senator Nancy Binay reacted to the issue in a series of tweets, "What was reported … had glaring biases and bends. The video does not capture what really happened."
She added, "There are people bent on putting my family's name in bad light. The so-called Dasmarinas incdnt happnd 3 weeks ago & we've forgotten abt it. No amount of explanation would satisfy those who have never-ending dislike for our family."