With the outbreak of measles, Assistant Health Secretary Dr. Eric Tayag warns everyone that it is not only children who are susceptible to the viral disease but even adults. In the post he made on Twitter on Sunday, Dr. Tayag especially pointed out pregnant women as among the most vulnerable.
Dr. Tayag also mentioned in his tweet that pregnant women who have measles are at risk for spontaneous abortion or premature delivery or low birth weight infants.
People who have advanced HIV or human immunodeficiency virus might suffer severe measles if they catch it.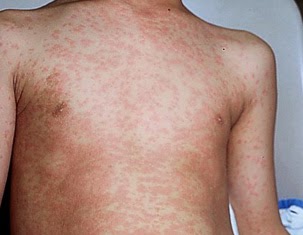 An adult who has not been vaccinated for measles but gets infected by the disease doesn't need to get immunized. Pregnant women must not get immunization. 

Dr. Tayag is encouraging parents to have their children vaccinated. Health centers nationwide are offering the measles vaccines. He emphasized that vaccine is 90% effective after one dose and 100% after second dose. However, there are times when vaccine failure occurs and the person gets infected still.
Measles, which is very contagious, can spread through cough or direct contact with body fluids or secretions.
Source