The Philippine-German labor agreement that was signed last year finally yielded fruit. According to the Department of Foreign Affairs (DFA) the first batch of Filipino health professionals arrived in Frankfurt last December 15.
The first batch to be deployed is composed of four nurses namely Vanessa S. Preclaro, 25, Krystel Anne B. Sumido, 28, Eowyn C. Galvez, 26 and Ruel C. Galias, 50. The first three health workers do not have international employment experience. They worked as intensive care and operating room nurses at the Makati Medical Center. On the other hand, 50-year-old Galias previously worked as an operating room and emergency room nurse in Abu Dhabi.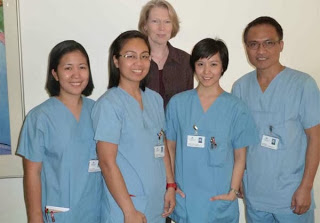 This first batch will be working as assistant nurses at the Nordwest Krankenhaus Hospital in Frankfurt. Once they pass the language and nursing examinations after a year's training they will be promoted to full professional status.
One of the stipulations in the labor agreement between the two countries is that all deployments to Germany have to go through the Philippine Overseas Employment Administration (POEA). A requirement for pre-screened applicants is they need to take the German language courses organized by the Goethe-Institute.
According to the DFA, a second batch of professional health workers will be deployed this January.