In whatever you do it is always best to have a plan. It's very important especially in planning vacations or quality time with loved ones. So, if you're already planning your personal calendar of activities for this year you need to acquaint yourself with the Philippine holidays for 2014.
For 2014 there are 18 non-working holidays. Most of these falls on weekdays which means long weekends are not that frequent.
Aside from these 18 non-working holidays, there will be two more which will be announced soon. They're for the Islamic holidays Eid'l Fitr and Eid'l Adha.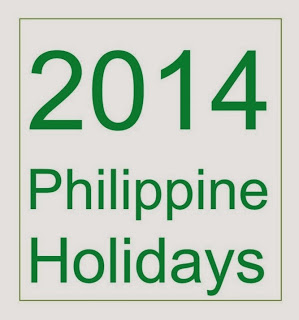 So, here is the list of regular and special non-working holidays for 2014 released last September 2013 under Proclamation No. 655:
January 1 (Wednesday) – New Year's Day
January 31 (Friday) – Chinese New Year
February 25 (Tuesday) – People Power Anniversary
April 9 (Wednesday) – Araw ng Kagitingan
April 17 (Thursday) – Maundy Thursday
April 18 (Friday) – Good Friday
April 19 (Saturday) – Black Saturday
May 1 (Thursday) – Labor Day
June 12 (Thursday) – Independence Day
August 21 (Thursday) – Ninoy Aquino Day
August 25 (Monday) – National Heroes Day
November 1 (Saturday) – All Saints Day
November 30 (Sunday) – Bonifacio Day
December 24 (Wednesday) – Christmas Eve
December 25 (Thursday) – Christmas Day
December 26 (Friday) – Day after Christmas
December 30 (Tuesday) – Rizal Day
December 31 (Wednesday) – New Year's Eve