The Forbes Magazine released on August 28, 2014 the top 50 richest people in the Philippines. Top on the list for 7 consecutive years is the Mall magnate Henry Sy with $12.7 billion net income.
Second on the list is the Tobacco king Lucio Tan with $6.1 billion net followed by port and casino magnate Enrique Razon Jr. with the estimated net profit of $5.2 billion.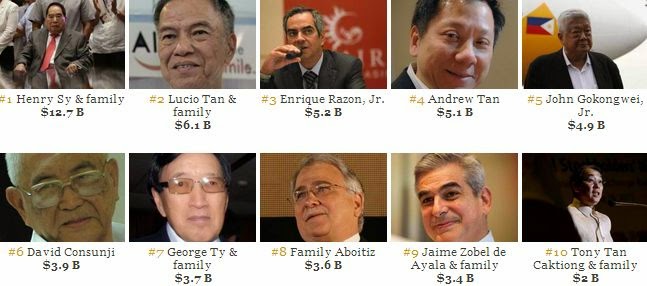 Fourth is the man behind Alliance Global Inc. which runs Emperador Distillers Inc. with the estimate net of $5.1 billion.
Cebu Pacific owner John Gokongwei Jr. got the fifth spot with net income of $4.9 billion followed by the firm owner David Consunji with $3.9 billion net income.
The seventh place got by Metrobank's George Ty with $3.7 billion while Aboitiz family place on the 8th spot with $3.6 billion net income.
The chairman emeritus of Ayala Corporation Jaime Zobel de Ayala place on the 9th spot with $3.4 billion while the owner of the largest fast-food chain in the country Tony Tan Caktiong complete the top 10 list of richest people in the Philippines.
Caktiong is the owner of Jollibee Corporation which include Jollibee, Greenwhich, Chowking  and Pizza who got a net income of $2 billion.
Checkout the Top 50 Richest people in the Philippines
Henry Sy; $12.7 billion
Lucio Tan; $6.1 billion
Enrique Razon Jr.; $5.2 billion
Andrew Tan; $5.1 billion
John Gokongwei Jr.; $4.9 billion
David Consunji; $3.9 billion
George Ty; $3.7 billion
Aboitiz Family; $3.6 billion
Jaime Zobel de Ayala & family; $3.4 billion
Tony Tan Caktiong; $2 billion
Robert Coyiuto Jr., $1.8 billion
Lucio & Susan Co, $1.7 billion
Yap family, $1.475 billion
Manuel Villar, $1.460 billion
Inigo & Mercedes Zobel,$1.2 billion
Alfredo Yao, $1 billion
Andrew Gotianun $955 million
Vivian Que Azcona $935 million
Eduardo Cojuangco $870 million
Beatrice Campos $825 million
Po family $770 million
Oscar Lopez $700 million
Alfonso Yuchengco $685 million
Roberto Ongpin $680 million
Betty Ang $670 million
Dean Lao $625 million
Manuel Zamora $620 million
Carlos Chan $550 million
Jorge Araneta $510 million
Mariano Tan Jr. $445 million
Edgar Sia $390 million
Ramon Ang $380 million
Michael Romero $375 million
Concepcion Family $320 million
Philip Ang $315 million
Frederick Dy $310 million
Luis Virata $300 million
Alfredo Ramos $260 million
Wilfred Steven Uytengsu Jr. $255 million
Tomas Alcantara $250 million
Jose Antonio $240 million
Bienvenido Tantoco Sr. $235 million
Jacinto Ng $230 million
Gilberto Duavit $200 million
Menardo Jimenez $195 million
Eric Recto $190 million
Walter Brown $183 million
Felipe Gozon $182 million
P.J. Lhuillier $180 million
Juliette Romualdez $170 million