Everything is rosy again for actress Lily Collins. Her happiness radiates in the photos that she posted recently on her Instagram account. And guess what that cause of her happiness is or rather who. It's none other than her ex-boyfriend Jamie Campbell Bower. Yes folks it looks like they are back together! Not even the charm and handsome looks of Chris Evans can prevent Lily's heart from seeking its true love.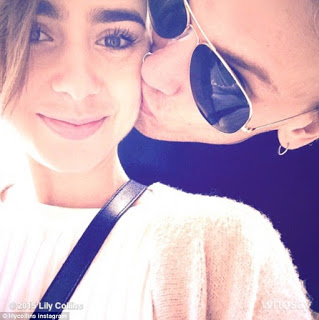 Lily posted a photo of her and Jamie with the caption "Happy is what happy does. 50 shades of blush #cloud9ispinkright?" The next photo was even sweeter because it showed them kissing! That kissing photo came with the caption "Life works in mysterious ways but when you find your inner glow is back and shining brighter, you know it's right…"
In case you don't know their history, well, Lilly and Jamie dated in 2012 until August 2013 after they met on the set of "Mortal Instruments: City of Bones. After they broke up Lily dated Taylor Lautner, Zac Efron and Chris Evans.