Summer is quite around the corner and I am pretty sure that one thing on your lists is to relax with your family or your barkada to reward yourself after the hard work you have done in the past year! Of course, we always think about the budget; how much are we going to spend for accommodation, for food, and for activities but what I got here can absolutely widen your eyes because what you are about to see, are the top summer destinations under Php1, 500.
Laiya, San Juan, Batangas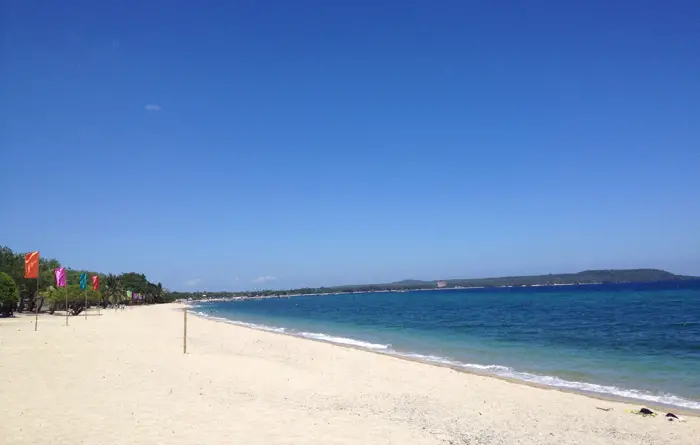 Filipinos know Batangas as a hub for nice beaches and a relaxing environment. In Batangas lie a long string of beaches where you can find affordable and nice beach resort accommodations which include packages that include lodging, tours, and food. Most of them will expect you to pay corkage fees should you bring in food and drinks from the outside.
How you can get there: A bus to Lipa City, Batangas from terminals Cubao or Buendia will do the trick. The ride itself consumes at least 1.5 – 2 hours so prepare yourselves. After landing at Lipa, ride a jeepney that will take you to San Juan. An alternate route is you can ride a bus directly to San Juan from the Cubao terminal and from there, you can take a jeepney to Laiya. The whole ride will take you at least 2 -3 hours but I am sure it will be worth the wait!
Fare: P350
Food and accommodation: P500 – P750 I am pretty sure that not everyone knows about Nuvali; Nuvali is a part of Laguna that is currently evolving into something that people would go to every now and then. It is now becoming a magnitude of malls and activity places where you can go and enjoy yourself. Just to set your expectation, it is not that cheap if you plan on doing activities but the activities would surely satisfy you in the best way possible; but it is cheap, YES it is cheap for the activities you can undergo in that place.
Nuvali has a waterpark where you can go wakeboarding and aside from that, they serve a pretty good taste of food that you and your friends can enjoy. Rentals for wakeboarding is P1, 500 for 8 hours already.
How you can get there: You can find vans (UV Express) in EDSA – Starmall or Alabang Town Center. Behind the Intercontinental hotel at Makati, you can find rides to Balibago and fromthere, there are direct rides going to Nuvali.
Fare: P400
Calatagan, Batangas
One of the most popular spots in Batangas is Calatagan and this is because it contains one of the oldest spots here in the Philippines which is the Cape Santiago Lighthouse. This is built in 1890 and is obviously one of the oldest infrastructures in the country. You can go ahead and tour it first to fully satisfy yourselves with your stay before going to resorts.
Beaches in Calatagan are usually white, clean, rocky, and very nature-like. Most resorts here allow you to cook your food in the resort so that you do not have to find somewhere you can eat and this is probably one of the things you and your barkada wants, right?
How you can get there: You can ride vans (UV Express) from EDSA-Taft that go straight to Calatagan and from there, adventure awaits! The ride is about 3 – 4 hours so make sure you don't forget something because it is not a very short ride home.
Fare: P400
Accommodation: P150 – P250
Food: P500 for a whole barkada (you can buy from the markets, bargain and cook your meals at your chosen place to stay)
Daranak Falls, Tanay, Rizal
You will love this place if you are a great fan of waterfalls and sceneries. I am pretty sure you are not familiar that Rizal offers a great and relaxing unfamiliar body of water – waterfalls. The good thing about your visit does not only revolve around waterfalls because Daranak Falls is magically kept at the mountainside of Sierra Madre mountain ranges and that means you will travel to two places at once. Everyone can enjoy the refreshing mountain water that this falls can offer because the entrance fee for adults is only P20 and P15 for children. You can get huts which cost around P100 – P300 and you can bring your own food there. Alcoholic beverage is prohibited.
The place is open from 8:00am – 5:00pm every day even in rainy days! Just be warned that almost every day, people swarm the place so expect a lot of company when you go there.
How you can get there: You can ride vans (UV Express) from EDSA – Starmall corner Shaw Blvd. Or Araneta Center Cubao and the fare costs P70 – P90. The ride takes about 2 – 2.5 hours.
San Antonio, Zambales
Staying in the cozy coves of Zambales will make you feel like you are out of the country. Talisayin cove, Anawangin cove, Silanguin cove, and Nagsasa cove are coves which can be found in Pundaquit and are said that they were formed from the ashes of Mount Pinatubo when they erupted. You can go on one hell of a trip; you can go trekking the beautiful coves and lands, you can go swimming through the rich waters of San Antonio, and you can go fishing. One tip to fully fulfill the camping dream is to bring a tent with you and some materials if you do not want to go survival style. You can also save a lot of money if you take action in your own accommodation; just don't forget to bring insect repellants.
How you can get there: You can ride a bus from Monumento or Cubao to Iba or Sta. Cruz, Zambales. It will take you around 4 hours before you get off at San Antonio Public Market. From there, you can ride a tricycle to take you to Pundaquit and that will be around 15 – 30 minutes. From there you will see boats you can ride to take you to what cove you want to visit first.
Fare: P700
Food and accommodation: You can bring your own tent, buy food from the market and cook them yourselves.
Summer is just around the corner and I am sure you are already planning on taking trips with either your barkada or your family. These are only a few of the places you can visit without having the fear of losing too much money for just one experience. Trips to these places can guarantee a smile in your heart afterwards.