Moms – they can sometimes be a pain in the neck for some especially when they are doing the best they can to be a mom. Different mothers from around the world have different approaches or beliefs in raising their children. Filipina moms however, have a different approach when they are mad at their children – even at their husbands. Here are 12 things that Filipina moms say when they're mad at you.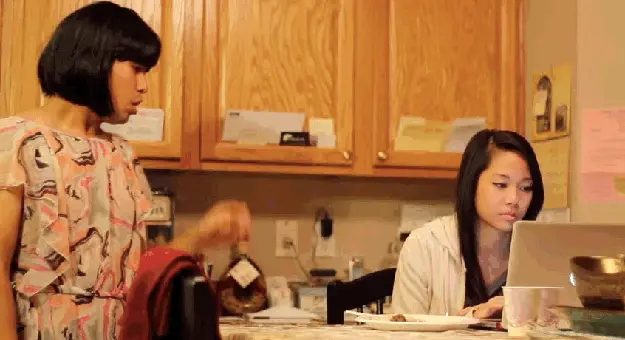 1. When you ask her if she has seen the things that you were looking for:
"MATA ANG GINAGAMIT SA PAGHAHANAP HINDI BIBIG." (Look with your eyes, not with your mouth!)
2. When you realize that thing is just somewhere around you:
"KUNG AHAS LANG YAN, KANINA KA PA NATUKLAW NIYAN!" (If that thing was only a snake, you already have been bitten!)
3. When you still can't see it:
"KAPAG YAN NAKITA KO, MAKIKITA MO." (If I see that things you're looking for, you are dead.)
4. When you are finally happy that you saw the thing you have been looking for.. She continues the sermon you never really wanted to happen:
"PAANO NA LANG KUNG WALA AKO DITO, SAN KAYO PUPULUTIN?" (What if I wasn't here with you, where would you go to be raised properly?)
5. When she sees you and your siblings get into a fight, you're thinking that she'd stop you but then she goes:
"ITO KUTSILYO OH, MAGSAKSAKAN KAYO!" (Here is the knife, go ahead and stab each other!)
6. When you get into something and she is then asking for an explanation but you can't talk because 1. She talks too much, and 2. She's too scary:
"O, BAKIT HINDI KA MAKASAGOT? NAPIPI KA NA BA?" (Why aren't you answering? Have you gone mute?)
7. When you finally decide to stand up and answer:
"ABA ABA, SUMASAGOT KA NA NGAYON AH?" (So you now learned how to answer to your parents in a not-so-childlike way?"
8. When you ask her for money because you have a school project:
"ANO BANG AKALA MO SAKIN? NAGTATAE NG PERA?" (What do you think of me? Do I secrete money out of my body?)
9. She then goes reminiscing with her good old life:
"NOON, PISO LANG BAON KO. BENTE LANG MASAYANG MASAYA NA KO." (When I was your age, my everyday allowance is Php1. 00. If I had Php20. 00 I would already be jumping of joy)
10. When she's mad that she states the obvious:
"ANAK KA TALAGA NG TATAY MO!" (You really are the child of your father!)
11. When she doesn't let you have your social life:
"GABING GABI NA AT NASA LABAS KA PA 'RIN. ANO NA BANG BALAK MO SA BUHAY MO?!" (It's late at night and you are still outside, do you really have plans with your life!?"
12. And finally, when she is so mad; that every child and husband knows:
"ABA *CALLS YOU BY YOUR WHOLE NAME* AKO BA TALAGA BINIBIWISIT MO?!" (Well, *CALLS YOU BY YOUR WHOLE NAME*, ARE YOU REALLY DARING ME?!"
Which one of these is your mom's line? Nevertheless, we love you mothers even though sometimes you threaten to spank us until we bleed. We understand now the love and the care you give for us. Thank you to all the mothers out there.