As we all know, Filipinos are known to the world as a group of people who loves eating.  Whether it's a celebration for a birthday, promotions at work, marriage, or just a plain night out, eating is never a thing to miss.  We love the inexpensive delicious Filipinos delicacies we can find in the streets but wouldn't it be better if you dine in a place where you can grab all-that-you-can-eat?  Yeah, I know what went in you mind – EXPENSIVE but we're here and we'll provide you a list of buffet date spots in and around the Metro – good thing about that is it's only under P500.00!
Don Day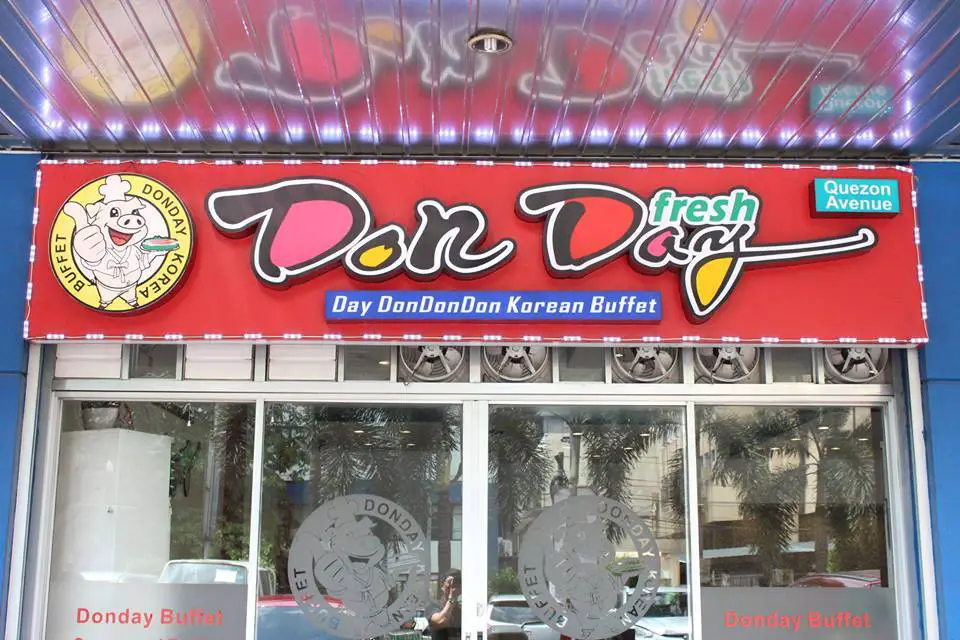 Aside from the rise of K-Drama, Korean restaurants are also becoming a boom here in our country.  If you try and think of it, expensive and exotic would be the first two things that would come in mind – until you try Don-Day.  Don-Day is one of the cheapest – if not, the cheapest Korean restaurant that offers eat-all-you-can-meat from Chap Chae, Beef Bulgogi, Ice cream, and Samgyeopsal!
Rates:
Php 299 – Don Day Table Buffet (Mon-Fri) (Without Grill, Lunch Time Only)
Php 399 – with Samgyupsal (Lunch and Dinner) (Mon-Fri)
Php 499 – with Beef + Samgyupsal (Mon-Sun) (Dinner)
Don-Day is located at 40 Malingap St., Teachers Village, Quezon City and 2G-5 Sunshine Boulevard Plaza, Quezon Ave. corner Scout Santiago Barangay South Triangle, Quezon City
Love Desserts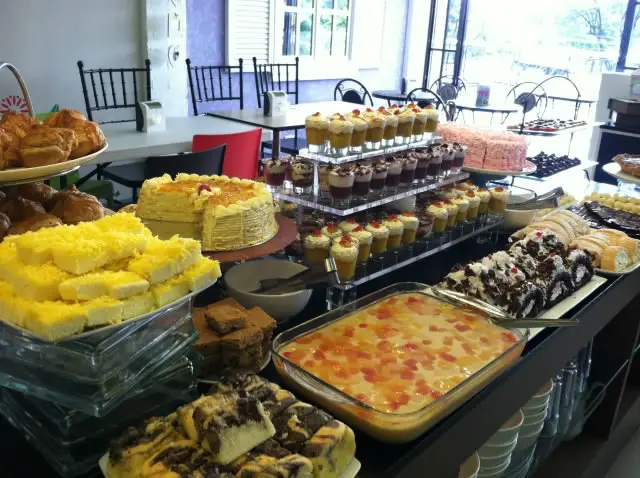 Obvious from its name, this restaurant is made for the pleasure of dessert-lovers.  Love Desserts has been curing the sweet tooth of visitors since 2011 and it is not showing a slow stop.  Even if its named Love Desserts, they also serve a variety of snacks to stray you away from too much sweetness.
Rates:
Php 199 – All the sweets you can imagine!! (Red Velvet Cakes, Peach Bavarian Creams, Mille Crepe Cake, Vanilla Panna Cotta with Mangoes and Blueberries, etc.)  Visitors are allowed 2 hours inside and this also comes with unlimited milk-tea and/or ice blended coffee.
Love Desserts is located at 915 Banawe Street, Quezon City, Pearl Drive, Commonwealth Avenue, Quezon City, and Fairview.
Charaptor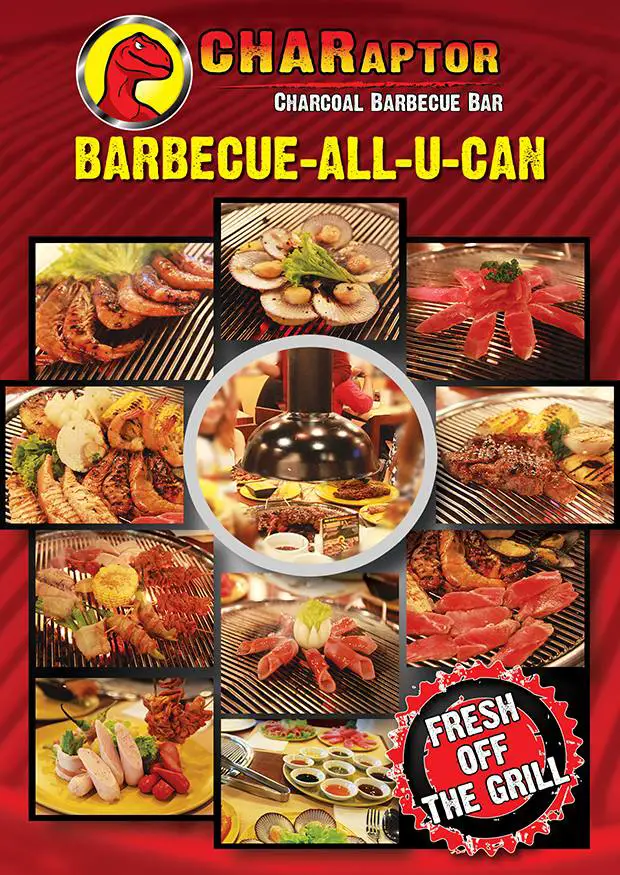 If you want your meal to be laid-back grilled style, then you must visit Charaptor.  This restaurant specializes in grilled food which everyone can enjoy.  The best part? – they serve alcohol.  It's like attending a spring break party whatever the season is!
Rates: 
Php 390 Lunch (Tues – Sat)
Php 490 Dinner (Mon – Sun)
Charaptor is located at 9752 Kamagong Corner Aranga Street, San Antonio, Makati City
GPoint Smorgasbord and Bar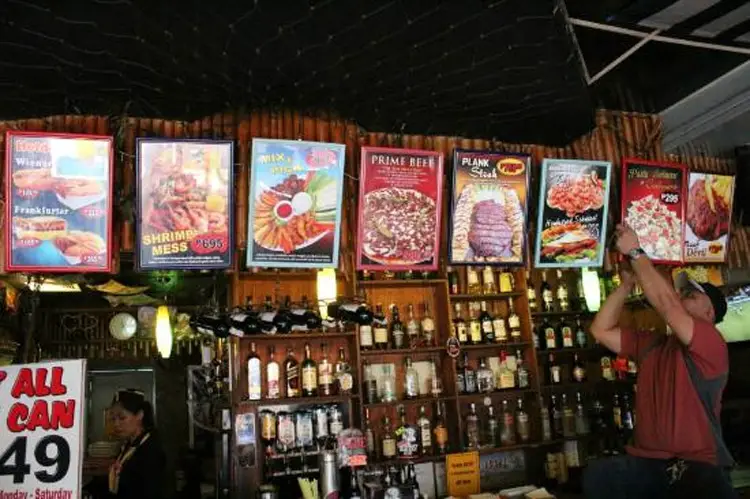 You would probably mistake this restaurant for a bar and if that's the case, you are not wrong.  GPoint looks more of a pub than a restaurant but this pub-looking-restaurant features thirteen (13) cold dishes and eighteen (18) hot dishes which include Korean, Japanese, Arab, American, Scandinavian, and British cuisines.  They also have a pool table which visitors can use from 11 A.M.'til 5 P.M.
Rates:
Php 299 – (Mon – Sat 11 AM. to 3 PM) (Sun 1 PM to 3 PM) this does not include drinks and customers have 2 hours to enjoy.
They also have crazy hours run from 3 PM to 5 PM where you can get your drinks at a very low price!  For instance, a bottle of Tanduay Ice would cost you P25 and special drinks would be P65.
GPoint Smorgasbord and Bar is located at 510 Faura, Padre Street, Ermita, Manila from 11 A.M. – 3 A.M. (Mon – Sun) and 1 P.M. – 3 A.M. (Sun)
BigPlate
Now let's talk about our own.  How would you react if you would be served Filipino-fiesta style food in HUGE servings?  I know, right? BigPlate has this belief that Filipino cuisines should be served in generous servings but of course on a budget.  Enjoy classic Filipino-favorite cuisines!
Rates:
P 298 – Daily Fiesta Lunch Buffet (11 A.M. to 2 P.M.)
Enjoy luscious BigPlate Lechon Kawali, Kare-Kare, Beef (Slow-cooked), Crispy pata, fried chicken, and many more.
BigPlate is located at Caltex Compound, J. Elizalde cor. President's Avenue, Paranaque City.  Open daily from 7 A.M. to 9 P.M.
City Buffet
Want a quick all-you-can-eat that serves different types of cuisines? City Buffet is a buffet restaurant that serves American, Chinese, Filipino, Japanese, and even a few Italian dishes.  Well you can have unlimited drinks like different varieties of soda, juices, and salads!
Rates: 
Php 399 – Lunch (11:30AM – 3:00PM Mon to Fri)
Php 499 – Dinner (5:00PM – 10:00PM Mon to Fri)
City Buffet is located at  U/F SM City Fairview ,Quirino Hi-way Cor , Regalado Ave ,Quezon City and 4/F Robinsons Galleria, Ortigas Ave. Ugong Norte, Quezon City
Somethin' Fishy
Do you and your friends want an overloaded heavy breakfast that is pocket-friendly?  If you are, then you should not think twice in visiting Somethin' Fishy at Eastwood.  They serve a variety of dishes that would truly fill your gas tank!  Midnight to morning buffet lets late night owls to dine in Filipino, Chinese, and American cuisines from 12 A.M – 10 A.M.  
Rates:
Php 169 – (Mon – Fri)
Php 179 – (Weekends and Holidays)
Somethin' Fishy is located at Eastwood City Cyberpark, E. Rodriguez Jr. Ave., Bagumbayan, Libis, Quezon City.
Choice Buffet
Craving for some savory Asian taste where you can eat how much you can?  Don't go elsewhere because Choice Buffet is made just for you. Specializing in Korean grill-style with Shabu-Shabu would really make your entire day!
Rates:
Php 490 – Lunch Buffet (Mon – Fri)
Php 580 – Dinner Buffet
Located at Pasay Hobbies of Asia, D. Macapagal Blvd. Pasay City. 
If you love to eat, then this list is perfect for you!  Whatever cuisine you wish to indulge in is possible and in a very affordable price.  Want to add more to this list?  Shoot us an email and let's tag-teams in helping our fellow citizens in finding the best and affordable all-you-can-eat buffet in the Metro.