AirAsia, one of the most known airlines is currently spicing up their game. On Sunday, September 10, the group said that they are offering up to 5 million seats which are on sale. Yes, you read it right, ON SALE. In addition to that, AirAsia was able to mention that the travel for this promo will be for travel between the 1st of March until the 21st of November next year (2018).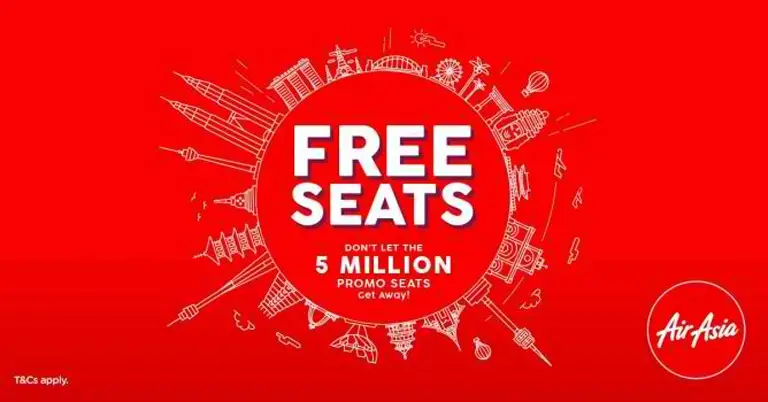 So how can you avail this promo? It's simple, you just need to book from the 11th of Septmeber up to the 17th. Yes, only bookings between these dates will be eligible for the sale. Furthermore, travelers can book flights for as low as Php17.00 to and from the following destinations:
Bohol
Caticlan/Boracay
Cebu
Clark
Davao
Iloilo
Kalibo
Manila
Palawan
Tacloban
Yeah, I know what you're thinking. You're probably saying that it's only local but wait, there's more! Also, even if the destinations above are local, imagine a 17-peso flight that is already round-trip. Isn't that a very awesome deal? And yes, there also are promotions for international fares. For as low as Php1, 290.00, travelers can book one-way flights from the Philippines to the following destinations:
Hong Kong
Canton/Guangzhou
Incheon/Seoul
Kuala Lumpur
Taipei
Singapore
Macau
Kota Kinabalu
Shanghai
Yes, you can now visit the famous Asian countries for less than Php10, 000.00! 
"Now is the perfect opportunity for our loyal guests and Filipino travelers to connect from many places conveniently as we continuously add new routes and increase frequencies into our network," said AirAsia Philippines CEO Dexter Comendador.
In addition to all those promotions mentioned above, AirAsia said that they will also work out flights which will be available from the group's hub in Kuala Lumpur to Australia, Japan, Maldives, and other destinations more. Thus, the ones we are seeing now are just kind of the crust to the earth; there's still the mantle and the core.
Well, if I were you, I would be booking flights now! But what if you can't commit to the travel? Well you can always sell your ticket, right? If someone you know is looking for a ticket that is cheap, you can always check the market price and sell a little bit lower so that your friends or some people you know would be able to afford the deal.
Not bad for a promotion, eh? What are you waiting for! Book your flights now!
Source: ABS-CBN