Since its the holidays, shoppers and shopaholics are going to be thrilled with the SALE which will give huge discounts this season! You can get up to 50% off on MEGA Shoes and Bags from the 22nd of November until the 25th. You can find the SALE in SM Megamall in Mandaluyong City.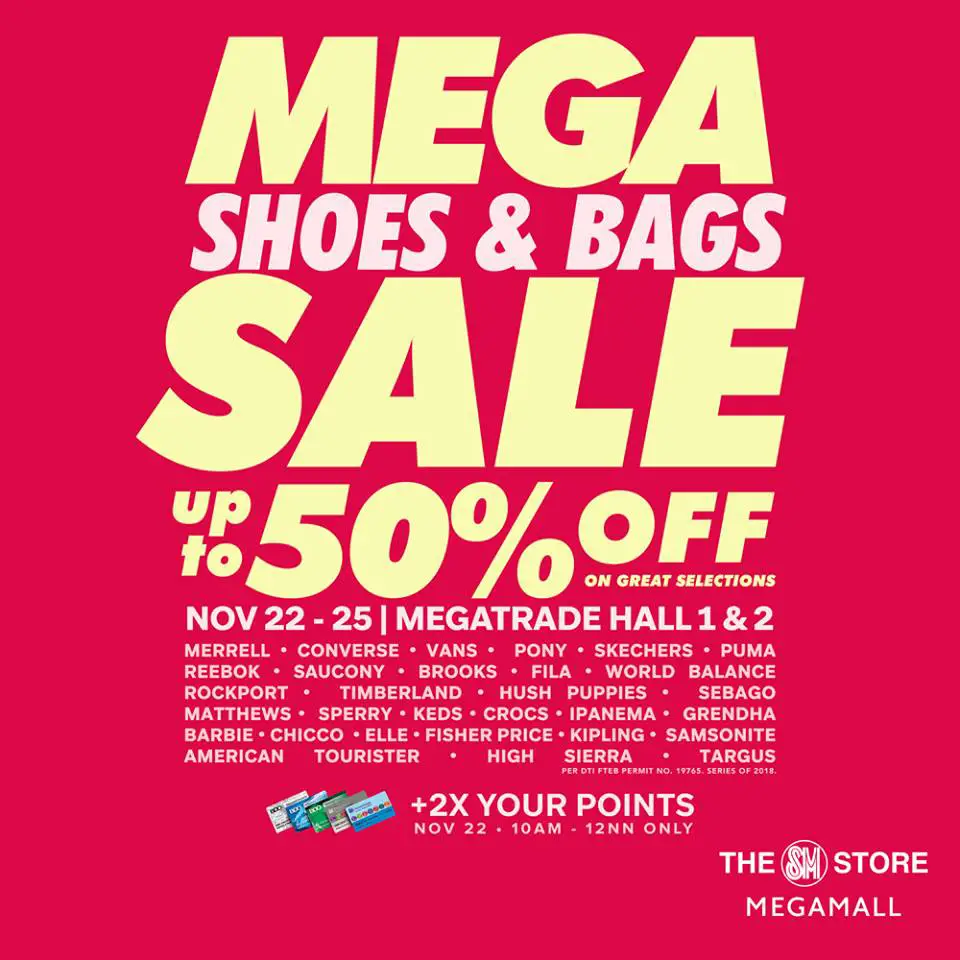 Shoppers can enjoy discounts on a variety of brands and up to 50% off on favorite brands like Keds, Samsonite, Converse, Puma, Vans, Fila, and many more!
Read: NAIA Terminal Fee Increase this 2019
Christmas shopping can't get any better with the 50% off on MEGA shoes and bags with the favorite brands of your choice!
Take advantage of the SALE and get quality items on discounts only in the MEGA shoes and bags sale!
Few tip to remember if you're interested in the 50% off on MEGA shoes and bags SALE:
If you're going to be traveling, make sure to go there earlier than the time you intend to be there. A lot of people are going to take advantage of this.
Bring water because during MEGA sales, you will be battling with other people to get the deal you want.
Be patient in looking for parking (if you're driving or traveling by car). If you're commuting, however, expect that the routes going to and from Megamall are to be congested.
Find the best deals possible. Remember, you can get up to 50% off on shoes and bags of your favorite brands.
During the MEGA sale, you can check other boutiques and brands as well as they can offer pretty good discounts, too.
Read: 5 Million Inexpensive Seats For The AirAsia Seat Sale
Need good deals for gift-giving this Christmas? Take advantage of this SALE and get up to 50% off on MEGA shoes and bags! This doesn't happen very often so make sure that you're there!