Most Filipinos' dream is to go abroad and to start a new life. However, these dreams are only made possible if they work abroad. Another thing is when they have family members abroad who're more than willing to take them. Although right now, there are sources which they can use to aid them in going outside the country. Just recently, the French Embassy launched a program that would accommodate and open opportunities to Filipinos.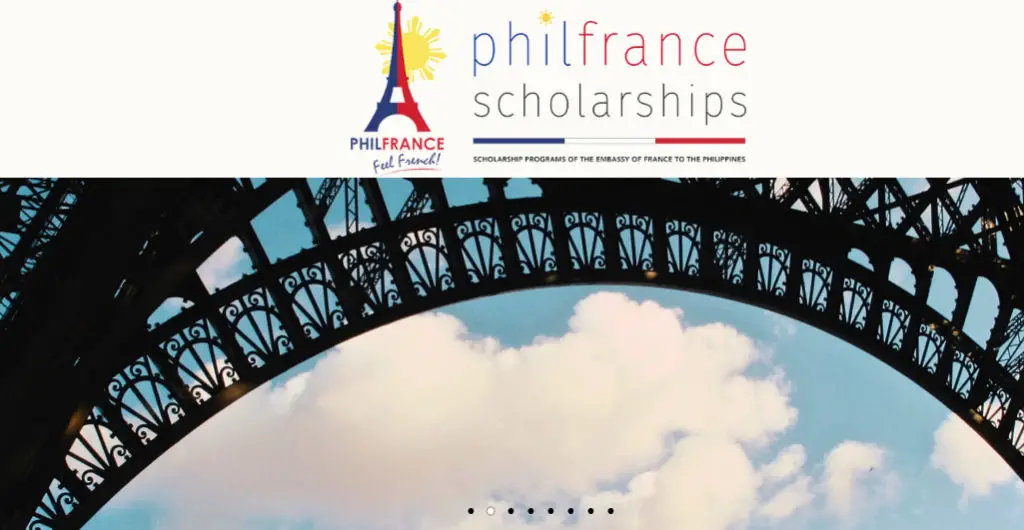 This opportunity would not only help aspiring Filipinos to go out of the country, it'll also help them develop their studying and carrying out research in France. Of course, with the goals of making contributions to the Philippine society.
In this article, we will be detailing the scholarship that France offers. Moreover, we'll also discuss eligibility and how one can apply!
First and foremost, the PhilFrance Scholarship Program was successful in opening two (2) separate calls for application; this is for academic year 2018-2019.
The first is for professional and Filipino students who yearn to come to France for a master's degree or a doctoral program; the organization accepts higher studies in all fields and courses.
PhilFrance Scholarship benefits for this type include:
Monthly allowances;
Health care for the student, length would depend on their field of study; and
A partial tuition subsidy
Eligibility requirements:
Filipino citizens;
Must be residing in the Philippines at the time of application
Graduates or graduating students of a Philippine higher education institution

For applicants to Master's degree programs: final-year students or graduates of a Bachelor-level degree
For applicants to PhD programs: final-year students or graduates of a Master-level degree
The second type of scholarship is open for CHED-recognized institutions staff and faculty who want to pursue master's or doctoral degrees in higher French-associated schools.
CHED-PhilFrance Scholarship for selected candidates would be:
A round-trip ticket/travel expenses;
Waived registration fees for state-regulated programs (public institutions);
Monthly allowances; and
Health-care packages
Eligibility requirements:
Must be  a Filipino citizen 
Needs to be an employee; by a CHED-recognized Philippine institution of higher learning
Must be in good health and of good moral character
At the very least, must be holding a Bachelor's degree (for applicants to Master's degree programs) or a Master's degree (for applicants to Doctoral degree programs)
Not be more than 42 years old for applicants to Master's degree programs and not more than 40 years old for applicants to Doctoral degree programs by the time you begin your degree
Demonstrates strong academic record
Demonstrates knowledge or expertise that would prepare them adequately for successful study and research in a specific graduate program
Have no pending criminal charges; and must not have been convicted for violation of any Philippine Law
Fulfill all the Terms and Conditions of the grant, including a return service obligation
Sciences Po, a worldly-known French institution for social sciences, came to an agreement with CHED in terms of full tuition for Sciences Po's graduate programs. Meaning, this will be financed as well, on top of all the other benefits offered by the CHED-PhilFrance Scholarships.
Both scholarship programs have a deadline of 13th of April 2018 at 4:00 P.M.
So do you think you are eligible for these scholarship programs? If yes, what are you waiting for? Apply now!
How can I apply if I am eligible?
In the PhilFrance scholarship website, there is a link there that would directly take you to the application page of either programs.
Clicking on the "Apply Now!" button will take you to this page: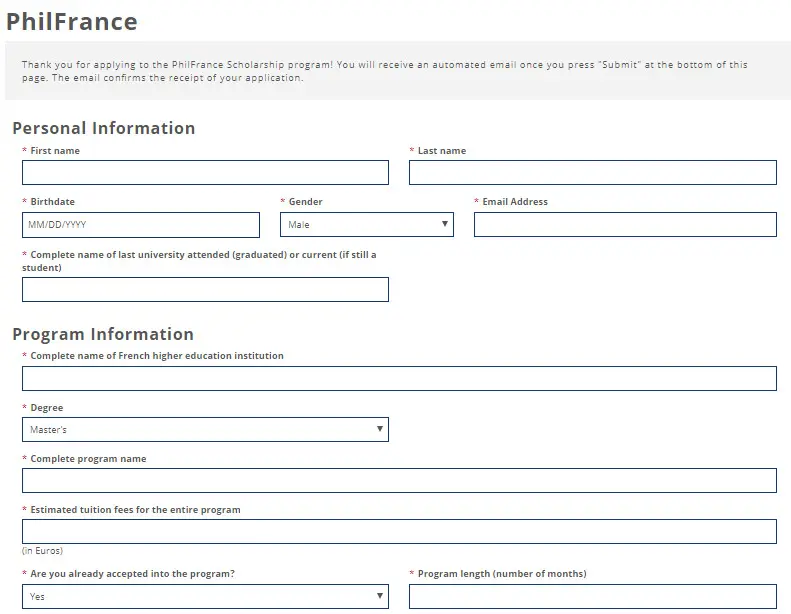 As you can see, this is the page where they're asking applicants for their personal information. Furthermore, it's also the part where you'll need to provide your program information such as:
Complete name of French Higher Institution
Degree
Complete Program Name
Estimated Tuition fees for the entire program (In Euros)
In addition to that, you'll also be asked to submit copies of your documentation. Just scroll down and you'll be able to see this part: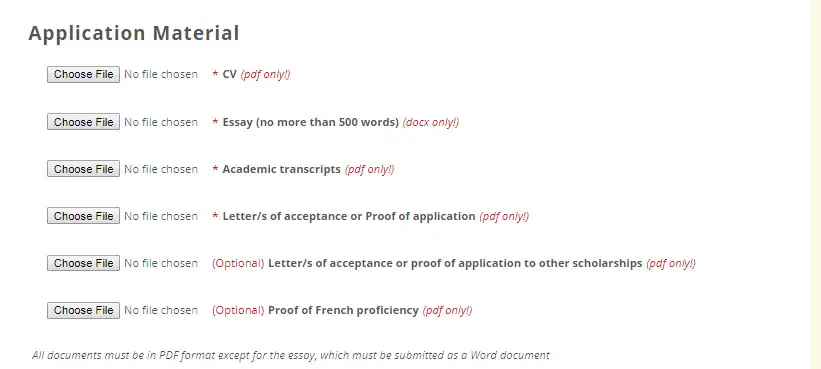 If you'll notice, you'll be able to see that on the last part, you're asked to submit a copy or a documentation of your proficiency in French. Meaning, you should train for the French language first before you try and apply.


Want to know more about these programs? Visit the PhilFrance website now by clicking here!
Since 2016, approximately 35 Filipino scholars have either been currently pursuing or recently completed, graduate degrees; all in the French language and literature, mathematics, marine biology, environmental and ecological sciences, applied chemistry, engineering,  business, public policy and governance, as well as public health.