In order to serve Overseas Filipino Workers (OFWs) better and to enlighten each of them of the free technical vocational (tech-VOC) courses they can get free, the Technical Education and Skills Development Authority (TESDA) set up OFW help desks at the country's international airports. These airports include:
The Ninoy Aquino International Airport (NAIA) (Terminals 1 and 3)
Mactan-Cebu International Airport;
Clark International Airport; and
Davao International Airport.
The OFWs' helpdesks were built up in NAIA last Wednesday, May 16, 2018, and are open from Mondays 'til Fridays. These are open all day depending on the flight details of the returning OFWs.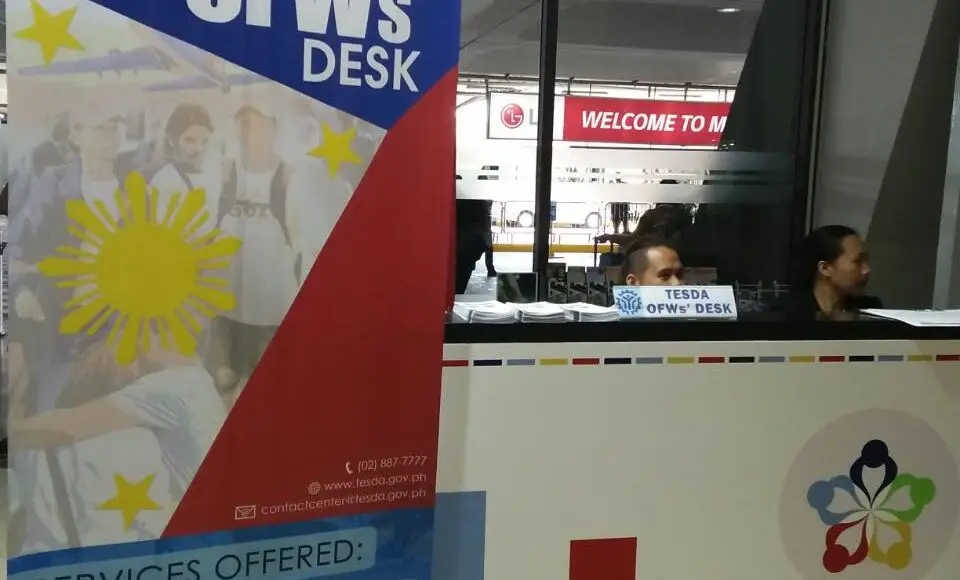 The work areas were mounted to inform OFWs about the courses accessible at TESDA, and how they can profit off these. OFWs can likewise get a "Declaration of Commitment" at the help desks.
According to TESDA specialist, Nelson Efren, this TESDA's assistance to OFWs is for all OFWs and not limited to the repatriated ones and those who are from Kuwait. In addition to that, the OFWs also require retraining and skills upgrade, whether or not they decide to stay.
Any OFW can avail of Tesda's assistance. It was the directive of Director General Guiling Mamondiong to prioritize the OFWs. For those who plan to stay here in the Philippines for good, they can get this certificate to avail of TESDA's Training for Work Scholarship Program (TWSP)" he said.
Mamondiong educated the organization's locale, commonplace, and local executives to give retraining help to the upset OFWs, especially those from Kuwait.
Under the TWSP, scholars are also provided with toolkits. This is suitable for those who would like to take baking, dressmaking courses, for example, because they will be given toolkits, which they could use right away for business,"  Efren explained.
The TESDA office prior declared that it would give free preparing, appraisal, preparing bolster store, nourishment, and transportation recompense of Php100.00 every day to repatriated OFWs.
According to Efren who was keeping an eye on the help desk at NAIA Terminal 1 on Thursday, three OFWs got a certificate there, while just a single OFW benefited of the certificate on Wednesday, May 16th. The desk is still new perhaps, that is why only about 25 OFWs come close to the desk at NAIA Terminal 1 on their pilot operation.
TESDA people who are in the OFW help desks are anticipating more OFWs who will make inquiries. Moreover, who will avail of the services at the help desks in the coming days.
Do you think that these OFW help desks will be beneficial? Would this be an answer to a current problem our OFWs are facing? Hopefully, this would somehow ease their minds and would make them realize that their country looks at them as heroes.
Stay tuned for updates.
Read Also: TESDA will be providing training for OFWs who are returning