The Philippine Atmospheric, Geophysical and Astronomical Services Administration (PAGASA) said that different parts of Luzon and Visayas are to be affected by the SouthWest Monsoon today, 5th of July.
Yesterday, weather bureau PAGASA projected that some parts of Oriental and Occidental Mindoro, Palawan, and Western Visayas would experience light to heavy rainfall. So, these provinces should prepare and take precautionary measures for possible natural disasters like flash floods and landslides.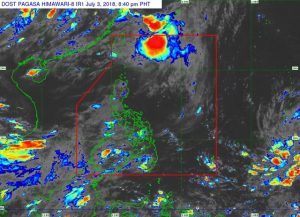 Other parts of Luzon and Visayas, overall the country; however, will experience thunderstorms and rain showers which could also lead to a few landslides, floods, and uncomfortability. As of 7:20 PM yesterday, the tropical depression is 2, 235 kilometers east of the Visayas area and is slowly moving northwest.
The tropical depression is slowly strengthening as it continues to move at 60 km/h. Previously, its pace is at 45 km/h with the gust of up to 75 km/h from its previous 60km/h. PAGASA said that they're projecting the depression to enter the Philippine Area of Responsibility (PAR) either on Sunday, July 8 or Monday, July 9, 2018. It'll be given the name Gardo if it enters the area.
Citizens nationwide, especially people who are in different parts of Luzon and Visayas, should prepare for occurrences in the event that the tropical depression comes. If you're part of that demographic and you're wondering what actions you need to do, just be prepared for a possible power outage, flash floods, and terrible rainfall. If your workplace doesn't consider this to be a day off for you then you have to adjust and take extra measures to avoid mishap in both the situation and your work.
Worry not because we will keep you updated as regards the status of the tropical depression. Keep safe and stay dry; stay tuned for updates.