The Samsung Galaxy Note 9 is the next big Android smartphone due to reveal on August 9, 2018 in New York city in its "Unpacked" event. It is another premium flagship product by the South Korean tech titan, Samsung Electronics Company. With some modification in its exterior, it will also include an upgraded processor from Qualcomm Inc. for some markets. The Samsung Galaxy Note 8 has been the talk-of-town as the best smartphone when it came out.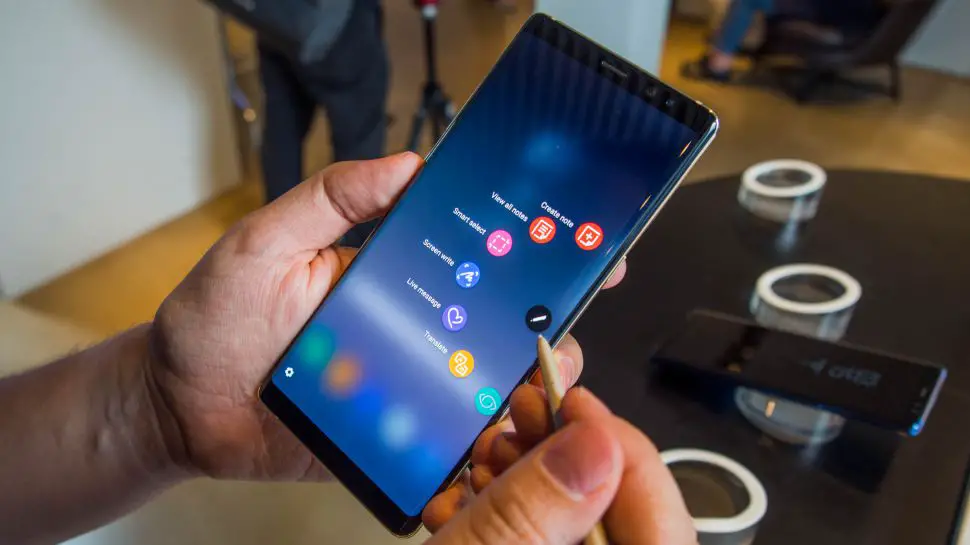 In the midst of the circulating rumors about the upcoming Samsung New Note device's debut in early August, an industry source told The Korea Herald, that August 9, 2018 is a likely date for the ninth edition of the Galaxy Note series. This revelation is always big news since it's an Android phone with a large screen.
If you haven't been following, let me give you a brief background of it. The Note is Samsung's large-format smartphone; the kind of thing that the netizens used to call a "phablet." The word phablet simply means Phone and Tablet. It's kind of like a combination of the specifications of a prime smartphone and the size of a tablet.
There was a leaked image of a probable protective case for the Note 9 posted by Twitter user Ice universe showing the screen panel and fingerprint sensor module which is placed below the camera module on the rear side of the smartphone, similar to the Galaxy S9 series.
Screen Panel of Galaxy Note9 pic.twitter.com/OPcMOhGVSN

— Ice universe (@UniverseIce) June 19, 2018
Based on previous works, Samsung is working on a smart speaker and we're expected to see its digital assistant Bixby 2.0 and an improved dual-lens camera in their next series; maybe one with the HDR video recording left out of the Galaxy S9 series. It's slightly bigger and better, in terms of resolution than the Samsung Galaxy S9 series.
It looks like we are to have a postponed adoption of an in-display fingerprint sensor for the Note due to technological difficulties for mass production. However, it might already show up on the Galaxy 10 or Galaxy S10 next year.
The scanner has been moved below the camera lens. A new button on the lower left side seen in the leaded case image is speculated to be a camera button by handset information provider GSM Arena.
The Note 9 is also rumored to feature a large curved, rectangular 6.4-inch Super AMOLED display, marking the biggest screen for the series, with an S Pen stylus. It has the largest-ever battery volume of between 3,850 to 4,000 milliamperes per hour. It has a metal frame and a likely glass back.
The Samsung Galaxy Note 9 has also has a Snapdragon 845 chipset or Exynos 9810 chipset, 6GB of RAM and runs Android 8.1 – the same specs in other words as the US version of the Galaxy S9 Plus. There are also rumors that Samsung could push the top configuration up to 8GB of RAM and 256GB of storage.
However, another report claims the Samsung Galaxy Note 9 may even have 512GB of storage in some markets. Some were saying it'll come in 64GB, 256GB, and 512GB variants, but it has thought the largest will only be available to those in China and South Korea.
The Korea Herald reports that Samsung might provide the Samsung Galaxy Note 9 with an NPU (neural processing unit). In simpler terms, that is an AI chip that Apple and Huawei have begun using in their flagship smartphones. It's still uncertain what Samsung would use the chip for but it could definitely drastically improve certain functions of the phone.
On the other hand, the Samsung Galaxy Note 9 looks that it will be made from a new material called Metal 12. It is a material that's both strong and light and is now being experimented in the production of smartphones.
Other details include a 3.5mm headphone port, USB-C port, a speaker grille, S Pen silo, a microphone on the bottom edge, slim bezels with no notch on the front, power and volume buttons on the left edge.
The dimensions of Note 9 are at 161.9 x 76.3 x 8.8mm, making it slightly shorter but marginally wider and thicker than the 162.5 x 74.8 x 8.6mm Galaxy Note 8.
How much would the probable cost be?
The Samsung Galaxy Note 9 would probably be expensive. Samsung and Android fanatics speculate that the cost would be at least $929/£869/AUD 1,499.
Another thing to take note of is that "Samsung Galaxy Note 9" isn't an official name yet. The name has just taken from the naming convention of Samsung and their Note series.
According to different data from different sources, Samsung was reported to have 23 percent of the smartphone market in the first quarter of this year versus 16 percent for Apple Inc. Earlier this year, Samsung released the Galaxy S9 phone with an upgraded camera which has been well received and appreciated by its consumers.
What is your opinion about this? Would this be an all-around phone? Would Samsung start the era of phones literally becoming computers? Stay tuned!