After the wrath of the local typhoon Ompong (international name Mangkhut), another one is queued and is ready to hit the country again. Typhoon Paeng (international name Trami), has been spotted moving towards Northern Luzon, according to PAGASA Sunday night.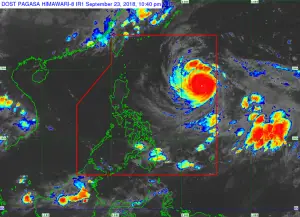 Just a few days ago, Typhoon Ompong hit Northern Luzon and brought strong winds in major areas. These triggered flash floods, landslides, and debris-fall, which caused fatalities for a little over 80 people in its prime. Now, PAGASA has spotted yet another typhoon that we, Filipinos might need to face and prepare for.
Read: How to Prepare for a Deadly Typhoon
The Philippine Atmospheric, Geophysical and Astronomical Services Administration (PAGASA) said in their 11:00 P.M. bulletin that Typhoon Paeng was last seen at 1, 185 km east of Tuguegarao City, Cagayan. In addition to their statement, they also said that the typhoon is slightly intensifying as it moves west-northwest.
As per PAGASA's reports, Typhoon Paeng has wind speeds of 150 km/hour near the center. This value comes from a speed of 125 km/hour, with gustiness of winds of up to 185 km/hour.
Typhoon #PaengPH has slightly intensified as it moves West Northwestward.https://t.co/ydPE52zHXJ pic.twitter.com/V7ofCVoU0Y

— PAGASA-DOST (@dost_pagasa) September 23, 2018
Good news because according to PAGASA, Typhoon Paeng is not expected to have a major impact in any part of the country, yet. Moreover, they don't also expect it to enhance and hastily improve the southwest monsoon any time soon. However, if it continues to move in its current path at 20 km/hour, it is expected that it will hit and have an impact on extreme Northern Luzon on Friday, September 28, 2018.
This puts up wondering and guessing. Since there are no signs of it being strong yet, no tropical cyclone has been raised yet; PAGASA is still observing the movement of Typhoon Paeng.
Hopefully, this coming typhoon won't be as strong and as destructive as its predecessor, Typhoon Ompong because there are parts of the Philippines that are still trying to recover and hopefully, they don't get hit the same stone.