Read: Typhoon Paeng, Steadily Escalates as it Moves Towards Northern Luzon
In a previous article, we reported that according to the PAGASA said that a new typhoon is near our country's vicinity. This new typhoon which was named Paeng (Trami is the international name) is last seen on the east side of our country and was moving west-northwest. The last update was that the typhoon won't bring in any harm as much as its predecessor but according to their recent updates, it could be otherwise. Although it won't bring in as much rain as the last one did but typhoon Paeng to rain down on northern Luzon is one of the things being talked about.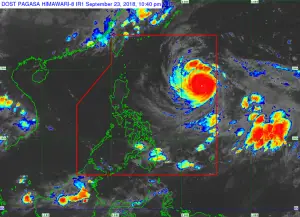 After typhoon Ompong, residents in the northern Luzon area were shocked and devastated by the strength and of what the typhoon made of their surroundings. Cities and municipalities in northern Luzon are still currently recovering and for that, we are sure hoping that typhoon Paeng won't repeat history.
In their latest advisory last 11 P.M. Monday, the typhoon's rainbands and landfall could possibly be felt by the northern Luzon area in Friday, September 28, 2018. In addition to that, PAGASA said that they might release tropical cyclone warning signals as early as Thursday, September 27, 2018, depending on the rainfall that the typhoon will bring.
Typhoon Paeng was last seen 795 km east of Basco, Batanes and this was as of 10 P.M. last night. Wind speeds were 185 km/hour near the center. The gusts of winds, however, were up to 225 km/hour. By looking at these values, it's safe to assume that typhoon Paeng to rain down again on our country is a possibility. What we're hoping for is that it doesn't do what typhoon Ompong did in order for our countrymen to be and to feel safe at all times.