In the last couple of months, we know that Manila Water will have a slight increase in the prices of water. As per the Metropolitan Waterworks and Sewerage System's (MWSS) grant, the company's request for a rate adjustment is becoming a reality. Although the MWSS allowed the Manila Water to have rate hike of more than P6 per cubic meter, it's going to be staggered so it will slowly increase. Having this said, the Manila Water rate hike will start in a few weeks as per last month's reports and interviews.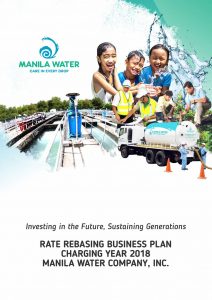 In addition to the MWSS's grant to Manila Water Co., they also approved Maynilad Water's petition for rate increases from this year until the year 2020. However, the MWSS also said that the Manila Water rate hike will skip the year 2019 to help consumers adjust their budgets.
As per reports, starting the 16th of October of this year, residents should expect the Manila Water rate hike to be P1.46 per cubic meter higher than what they're paying for right now.
Read: Water Shortage Warning of Manila Water, Expected by the year 2021
If the increase is far from this, you might want to report it because it should only be what the announced rate is.
"To mitigate the impact of the tariff increase on its customers, Manila Water shall stagger the implementation over a 5-year period." This statement was said by Manila Water during an interview.
What do you think about this Manila Water rate hike? Do you think that this is a justifiable act? Although P1 per cubic meter is not a high amount, it's impactful especially if done to millions of Filipinos every single month. What's more impactful is that even if it's just a peso in the increase, our salaries do not increase that much so it could be a nuisance for a lot of Filipinos.
Read: How Cities and Municipalities Should Prepare for an Earthquake
Good news because the Manila Water rate hike won't be around in the year 2019. That said, residents should be able to adjust to that 1-year period in order for them to have a clean and neat budget for the time allotted for the rate increase.
Source:
https://news.abs-cbn.com/business/10/01/18/manila-water-to-start-implementing-first-tranche-of-rate-hike-on-oct-16