Bus rides, especially if it's a long drive, can be boring. As a matter of fact, many different things have been proposed to somehow ease the boredom and the frustration when riding buses. There are vendors who sell snacks and drinks, there are movies, and tv's to entertain passengers through their journey. There's one bus line in Cebu who is better at giving their customers and passengers a good time.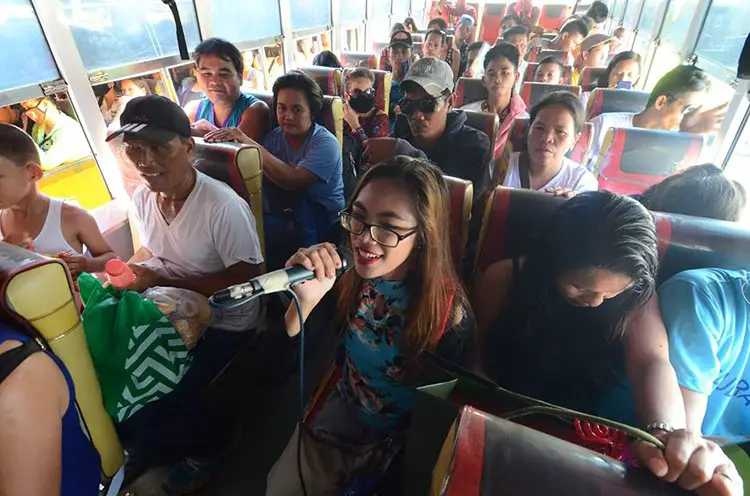 The Cebu South Bus Terminal with the route from Cebu City going to Sibonga offers a one-of-a-kind entertainment to its passengers. This Cebu bus line gives free ride to passengers if they sing in the videoke. It's not just regular singing, though, the passenger who sings would need to have a score of a hundred.
Read: Fake Facebook News will now be penalized
The passengers just have to make sure that their score is a hundred and they'll get a free ride.
Is this regulated and safe?
Fortunately, yes. According to Land Transportation Franchising and Regulatory Board (LTFRB) Central Visayas regional director Eduardo Montealto. There are conditions, however. According to him, as long as the driver is the one who is not partaking in the activity; as long as the driver is not distracted. Furthermore, this activity should just not distract other drivers and motorists in the road as well.
What if it distracts other people from sleeping or from their own personal activities?
Agrifino Sentillas, the bus chauffeur, is ready to terminate the machine when they receive complaints about this. Besides, if other people on the bus are not comfortable with this, they know how to action on it. They're aware of the consequences of being distracted on the road.
Read: OFWs can Avail Free TESDA Tech-Voc Education Upon Airport Arrival
What do you think about this new feature of this bus line? Do you think that this is applicable in all parts of the country? Whether or not a bus line gives free rides to its passengers, the fact that bus lines are looking for ways to entertain their customers are thoughtful and creative.